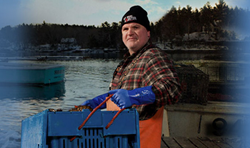 "Maine lobstering is a time-honored family-based industry, and we want to support that. Lobstering is a natural, sustainable effort." - Mark Murrell
(PRWEB) February 03, 2014
As fishermen gathered at the Massachusetts Lobstermen's Association's annual conference over the weekend in Falmouth, a biologist announced that the future is uncertain for lobster fishing south of Cape Cod. As reported in the Martha's Vineyard Gazette on January 30, Bob Glenn, a senior biologist with the state Division of Marine Fisheries did not blame overfishing, but rising water temperatures, for the potential industrial sea change.
The climate may be more inhabitable for lobster a little further north, but Maine fishermen and marketers remain vigilant.
When thinking of Maine lobster, visions come to mind of salty lobstermen braving even saltier seas to locate the freshest, sweetest lobster Maine has to offer. These persistent sailors often spend days navigating brutal waves and weather to bring back this hearty American favorite.
But what happens when the lobsterman returns to the dock? His success is only as secure as the lobster marketer meeting him there to buy his prime catch -- in this case, Mark Murrell, owner of GetMaineLobster.com.
This exchange touches the core of Murrell's lobster business and economic hopes for Maine: bolstering the lobsterman's livelihood, while bringing the Maine adventure to customers by shipping fresh, live lobsters nationwide.
As the economy sails its own seas of ups and downs, and other factors from wind farms to climate change affect the industry, this association between lobsterman and marketer grows more binding with time. Murrell's efforts are vital to sustaining the traditional Maine lobster trade.
"It's a personal relationship built on trust and a sense of adventure," says owner Mark Murrell. "Maine lobstering is a time-honored family-based industry, and we want to support that. Lobstering is a natural, sustainable effort. On the other side of the trap, we want to make sure the lobstermen are sustained as well."
John Williamson, a marine fisheries consultant from Kennebunk, Maine, attended the conference and shared about a trip he took to England to meet wind farm developers and the fishermen affected by them. According to reporter Mark Alan Lovewell, Williamson urged fishermen to "pay attention and get involved" in that development process.
The waters of Maine are changing as well, with reports of new or different species of sea life appearing. In the meantime, Murrell works to bolster sustainable lobstering in Maine, and in other news promotes keeping Maine lobster pesticide-free.
To read the article about Cape Cod fisheries, visit http://mvgazette.com/news
About GetMaineLobster.com:
GetMaineLobster.com, a division of Black Point Seafood and Black Point Gourmet, hand-selects the finest Maine lobster, seafood and beef products for convenient distribution throughout the United States. Their passion is to make fresh, quality seafood readily available to customers across the country, which is why they buy from only the most trusted, well-established suppliers to ensure that they receive the finest products available.
GetMaineLobster.com was selected out of the more than four million small American businesses served by Chase bank to represent its new Platinum Business Checking product for its 2013 national advertising campaign.