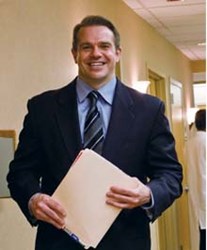 Part of the healthcare plan for each and every patient, is encouraging a healthy lifestyle to keep their bones, joints and muscles healthy.
Hackensack, NJ (PRWEB) February 03, 2014
February is National Cancer Prevention month, a time to raise awareness and take into consideration the choices you can make to help reduce your risk for cancer. Although the causes of cancer varies from person to person, environmental and lifestyle factors can have an effect on cancer risk and prevention. According to the American Cancer Society, a total of 1,665,540 new cancer cases and 585,720 deaths from cancer are projected to occur in the US in 2014. "As we contemplate these numbers, it helps to know that making proper lifestyle changes and following recommended cancer screenings have helped to reduce the numbers and prevent some disease," notes Dr. James C. Wittig, Chief, Orthopedic Oncology and Sarcoma Surgery at HackensackUMC and Director, Skin and Sarcoma Division at the John Theurer Cancer Center. "As an Orthopedic Oncologist specializing in limb-sparing surgery and cancers affecting the musculoskeletal system and soft tissues, my primary focus is treating the initial diagnosis and secondly, stressing the importance of follow up appointments and yearly check- ins to monitor their healthy progress. Part of the healthcare plan for each and every patient is encouraging a healthy lifestyle to keep their bones, joints and muscles healthy."
In addition, The American Institute for Cancer Research (AICR) provides three guidelines for cancer prevention that can help focus on what's most important: 1. Choose mostly plant foods, limit red meat and avoid processed meat; 2. Be physically active every day in any way for 30 minutes or more. "Exercise not only improves psychological well-being but it keeps the bones, joints and muscles healthy," notes Brendan Comer, Medical Assistant on Dr. Wittig's healthcare team. 3. Aim to be a healthy weight throughout life. "Although no one single food can cause or prevent cancer, making healthier eating choices can help lower a person's risk for several chronic diseases, including cancer, diabetes and heart disease. Making healthy, everyday changes may lower risk for cancer recurrence and secondary cancers," adds Helen Wittig, RN.
As you move forward this year, keep these tips in mind and be aware every day of the choices you can make to keep your health at an optimal level.
About Dr. Wittig
James C. Wittig, MD specializes in limb-sparing surgery; pediatric and adult bone and soft tissue sarcomas; melanoma; benign musculoskeletal tumors; metastatic cancers; as well as complex hip and knee replacement surgery. He also has special expertise with regard to tumors that affect the shoulder girdle and scapula. In addition to his Hackensack University Medical Center office located at 20 Prospect Avenue, Suite 501, Hackensack, NJ, Dr. Wittig has a Morristown Office within Tri-County Orthopedics, 190 Ridgedale Avenue, Suite 300, Cedar Knolls, NJ 07927. He is a member of the American Academy of Orthopedic Surgeons; New York State Society of Orthopedic Surgeons, Inc.; and the Medical Society of New Jersey. He has published over 90 educational materials ranging from original reports, abstracts, videos and articles in the following publications: Clinical Orthopedics and Related Research, The Journal of the American College of Surgeons, American Family Physician, Journal of Arthroplasty, Radiology and Journal of Bone and Joint Surgery. He is also a prominent lecturer in the field of Orthopedic Surgery throughout the nation. Dr. James C. Wittig has been interviewed in national and local print, TV and radio outlets including The Dr. Oz Show, New York Daily News and other publications. He has also been recognized as one of "The Nation's Top Doctors" by New York Magazine. For more information about this or other related topics, or to schedule an appointment, please call, in NJ, 551-996-2533 or out of state, 1-855-DRWITTIG (1-855-379-4884), visit TumorSurgery.org or email Dr. Wittig at drjameswittig(at)gmail(dot)com.