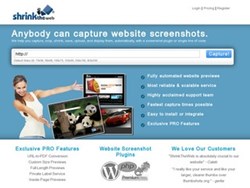 This success through the "growing pains" comes despite the rapid growth of the popularity of the service.
Atlanta, GA (PRWEB) February 04, 2014
ShrinkTheWeb recently announced that they have increased their number of screenshot generators by 50% in recent months. This expansion was made shortly after a decision to move its operation back in house. One calculation has determined that with the increased capacity the service can now handle upwards of 50 million website screenshots per month effortlessly.
The success of a usage based SaaS (Software as a Service) is very dependent of maintaining a good usage to available-resource ratio. Launching and maintaining an affordable service relies heavily on the ability to keep operating costs at a minimum without sacrificing the quality of the service. Since launching its high end automated web page screenshot service in 2008, ShrinkTheWeb has undergone many changes to ensure that it would continue to exceed the requirements of its growing customer base without sacrificing its service quality or their free offering.
With the continuous changes in technology and market pricing, maintaining a service of the scale of ShrinkTheWeb requires a significant amount of time and research to remain profitable. Over the years, ShrinkTheWeb has managed to successfully stay ahead of the demand curve by anticipating changes and adjusting its configuration to stay inline with its core vision. Having a reputation of providing the highest quality screenshots, fastest capture times, and responsive support is what has set this thriving startup aside from its competitors. This success through the "growing pains" comes despite the rapid growth of the popularity of the service.
The industry has seen its fair share of startup website screenshot providers that have failed to make it as a viable solution for companies that consistently need large amount of screenshots. The process of capturing website screenshots is not complicated in and of itself, and there are many utilities available that can get the job done. Automating the process of capturing millions of screenshots without significant wait times or outages is where the challenge lies. It seems that what some of these failed businesses were unable to do was to grow with their customer's demand or deliver a high quality product at a price that its users were willing to pay.
While hardware plays a big part in making a service strong and reliable, the lack of an elegant software configuration makes it impossible to maximize service efficiency. In early 2013, ShrinkTheWeb announced that it made changes to it's request code and database settings that resulted in significantly reduced latency and resource waste. ShrinkTheWeb's continued investment in hardware additions and software improvements help to keep the service at the forefront of the growing website screenshot niche.
About ShrinkTheWeb™
ShrinkTheWeb offers a service to fully automate the capture and delivery of web page
screenshots. The company was founded in 2009 and has been a driving force in the emerging automated website screenshot marketplace. ShrinkTheWeb has always held fast to the idea that website screenshots will eventually become a staple of the Internet. They will become a commonplace replacement or enhancement to simply showing a link. They are the natural evolution to linking and referencing on the web.
For more information, please visit http://learn.shrinktheweb.com