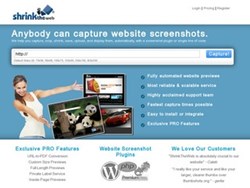 helps website owners set up attractive and useful directories in a short time
Atlanta, GA (PRWEB) February 11, 2014
The eSyndiCat developers took the time and care to ensure a smooth integration with ShrinkTheWeb's PagePix service and working with the ShrinkTheWeb team to make it a "ShrinkTheWeb Certified Integration" on release day. This ShrinkTheWeb eSyndiCat plugin moves into the fold of the growing suite of software that currently enjoys the popular ShrinkTheWeb screenshot service.
This addition allows webmasters to obtain automatically generated screenshots of various websites in a scalable fashion that can be added to their directory listings without the time-consuming and manual hassle of capturing, cropping and uploading the screengrab images one by one.
As technical users of eSyndiCat already know, it is a popular PHP directory script that makes it possible for admins to set up a variety of directory-type of websites – from church directories and wedding sites to contractor listings or restaurant guides and beyond. At present, thousands of webmasters around the world have chosen the highly customizable eSyndiCat directory software to launch ad-supported moneymaking directories that oftentimes tend to include many links to external websites in addition to the advertisements.
Along with the capability to produce massive amounts of listings via eSyndiCat comes the functionality of ShrinkTheWeb to make those listings more visually attractive and informative by utilizing the code that can create millions of screenshots automatically; being displayed alongside any plain text link.
Beyond the existence of mere wordy directory listings, ShrinkTheWeb's technology adds the ability for website creators to combine screenshot images with their bidding directories as well with eSyndiCat's full-feature link bidding automated system offerings.
The combination of software that gives webmasters the capacity to feed a long list of URLs into ShrinkTheWeb's advanced platform and also publish a comprehensive and compelling business directory with eSyndiCat's application results in a process that helps website owners set up attractive and useful directories in a short time, with little development knowledge needed.
These two software applications work in conjunction to assist those who lack in-depth programming skills with the ability to become website administrators of sites that can include hundreds, thousands or even millions of listings of businesses, individuals, events and much more – and to marry those multitudinous listings with website screenshot preview images garnered in an automated and efficient manner.
With the combination of ShrinkTheWeb's image-providing service via automated means, and eSyndiCat's powerful directory and article creation tools, the two services have married into an exciting platform that can develop a picturesque website in minutes that outdoes the competition.
About ShrinkTheWeb™
ShrinkTheWeb offers a service to fully automate the capture and delivery of web page screenshots. The company was founded in 2009 and has been a driving force in the emerging automated website screenshot marketplace.
ShrinkTheWeb has always held fast to the idea that website screenshots will eventually become a staple of the Internet. They will become a commonplace replacement or enhancement to simply showing a link. They are the natural evolution to linking and referencing on the web.
For more information, please visit http://learn.shrinktheweb.com