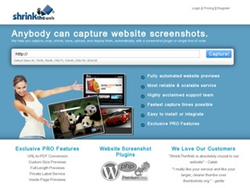 it is important to give developers the tools that help them forge ahead quickly
Atlanta, GA (PRWEB) February 25, 2014
The original ShrinkTheWeb sample PHP code worked well enough during the first few years of service. However, developers are always innovating and came up with new and interesting ways to integrate and also asked for new support to be added. Now, the sample PHP code is elegant and refined but remains simple to implement by even the beginner web developer.
The goal of providing the sample code is to help all users seamlessly integrated the ShrinkTheWeb PagePix screenshot service into a website or application. As a secondary goal, the sample code enables developers to integrate the service into the "core" of a theme, plugin, CMS (content management system), or other application.
As website screenshots continue to become more popular, it is important to give developers the tools that help them forge ahead quickly, rather than presenting an obstacle to overcome. With ShrinkTheWeb's sample code, the job is already halfway completed. "By late 2014, the company hopes to have its service integrated into every relevant software and application," states Brandon Elliott, CEO of ShrinkTheWeb. So far, the company has made great progress.
Still, a great many of ShrinkTheWeb's users are able to use an existing plugin, theme, or application that already integrates service for them. In these cases, all user is required to do is to register a free account and then enter their access credentials. The rest is automatic, thanks to developers, and ShrinkTheWeb in some cases, who integrated the service. The best integrations also take advantage of the "Account API", which allows the integration to instantly detect the user's account level and upgraded features. This is wonderful for novice users, especially, because it means that the screenshot plugin, theme, or application is able to customize itself without the user having to figure out any settings. Integrating ShrinkTheWeb truly becomes plug-n-play.
About ShrinkTheWeb™
ShrinkTheWeb offers a service to fully automate the capture and delivery of web page screenshots. The company was founded in 2009 and has been a driving force in the emerging automated website screenshot marketplace. ShrinkTheWeb has always held fast to the idea that website screenshots will eventually become a staple of the Internet. They will become a commonplace replacement or enhancement to simply showing a link. They are the natural evolution to linking and referencing on the web.
For more information, please visit http://learn.shrinktheweb.com