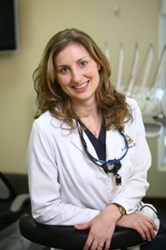 Women taking care of their oral health just makes good sense, as they can't take care of others, if they become ill themselves.
Marietta, GA (PRWEB) February 04, 2014
Nowadays many women are the main caretakers of family, while working full time jobs. This in itself is an incredible undertaking that Marietta Dentist, Dr. Aguilera has noticed, so she has made it her mission to educate women not to sacrifice their own dental needs when taking care of family. Dr. Aguilera and Verde Pointe Dental Associates have announced the "Women's Health Spring Fling 2014," an event that will focus on educating women about oral health, and its affects on overall health.
Women of all ages will be educated at dental appointments on how to have a healthy mouth. They will take center-stage at the dental office during February, March and April, 2014. The issue will be discussed and literature available for further review. "The priority will be to generate awareness and understanding about how important good oral habits, such as seeing a dentist for routine visits, completing necessary dental work, and how important home-care is to your health" says Dr. Aguilera. The techniques of brushing and flossing will be demonstrated for better understanding of how oral hygiene is done properly.
A healthier mouth reduces heart disease, diabetes, lung disease, strokes, mouth cancer, gum disease, tooth loss, dental decay and bad breath. Improving oral health improves overall health, giving women a better chance of staying healthy. It's never to late to learn and make changes.
"Women taking care of their oral health just makes good sense, as they can't take care of others, if they become ill themselves." That's why the new focus on women and oral health at the Spring Fling. It is in the best interest of those they love.
Kirk Kimmerling, DDS and Suzanna Aguilera, DMD are Marietta cosmetic dentists and Marietta emergency dentists that are literally paving the way for the future of dentistry. The office is technologically sophisticated in not only equipment and procedures, but also developing dental materials via Kimmerling Holdings Group, LLC and fiteBac SkinCare, LLC, Dr. Kimmerling's biotechnology firms. The office maintains 13 dental operatories, each of which is equipped with a display monitor on which digital x-rays and intra-oral pictures can be examined, and patient education videos can be viewed. The office also employs highly advanced technologies, including: (1) Logicon, a program that can digitally measure the extent of tooth decay, which allows detection of 20% more cavities and helps prevent misdiagnosis; (2) "Collimators," a conduction of x-ray tube heads that decrease radiation exposure to the patients and staff by 5-fold; and (3) iTero and 3M's advanced restoration impression system and digital scanner that produces more accurate restorations than traditional methods. The office is the first to use fiteBac SkinCare Germicidal Hand Softening Gel, an advanced hand sanitizer without the harshness to skin from traditional alcohol-based hand sanitizers. Drs. Kimmerling and Aguilera invite new patients to meet their exceptional staff and experience and benefit from state of the art dental care. The office offers a broad range of services from teeth cleaning, teeth whitening to dental veneers and Marietta root canal, dental implants, root canal therapy, dental veneers, dental extractions, and toothaches Marietta, GA.