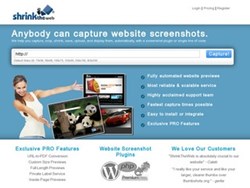 visual aid to show how sites rank against each other across multiple search engines
Atlanta, GA (PRWEB) February 18, 2014
Obtaining a good search engine ranking is a significant aspect of generating traffic to a website and subsequently income through conversion. With this in mind, Brandon Elliott of ShrinkTheWeb commissioned the creation a visual aid to show how sites rank against each other across multiple search engines for specific keywords. While there may not be a shortage in Search Engine Optimization tools on the market, the ShrinkTheWeb search ranking comparison tool does offer some unique features that stand to benefit its users.
The first benefit that should be pointed out is that the tool is absolutely free to use making it even more appealing to add it to your online toolbag. In regards to its actual purpose, the tool's key feature its visual nature. Using automated web page screenshots provided by ShrinkTheWeb, the tool dynamically produces a chart that shows how any site compares to competing sites for a specific keyword. The visual mapping allows the user to see a preview of the actual websites being compared without having to click through. This neat little gadget allows SEO specialists or website owners to quickly compare how their site(s) stacks up against the competition in search engine ranking and aesthetics.
It is known that a step to a developing a successful venture is knowing how a service ranks against the competition and this new tool provides a great way to get a point in time snapshot of just that. Users can use some of the more advanced settings to highlight a specific URL to quickly identify its ranking or choose to enable the site preview function as well as select the size of the preview.
The ShrinkTheWeb Search Engine Optimization tool was said to be created with SEO experts in mind but it can be useful for anyone wanting to compare how they rank on the three major search engines, Google, Yahoo, and Bing. The fact that the tool is free should make the decision to try it out even easier. This free offering by ShrinkTheWeb is just one of many tools the company has invested in since launching its free automated website screenshot service back in 2008.
Try it out for free at:
http://www.shrinktheweb.com/content/search-results-rankings-comparison.html
About ShrinkTheWeb™
ShrinkTheWeb offers a service to fully automate the capture and delivery of web page
screenshots. The company was founded in 2009 and has been a driving force in the emerging automated website screenshot marketplace. ShrinkTheWeb has always held fast to the idea that website screenshots will eventually become a staple of the Internet. They will become a commonplace replacement or enhancement to simply showing a link. They are the natural evolution to linking and referencing on the web.
For more information, please visit http://learn.shrinktheweb.com