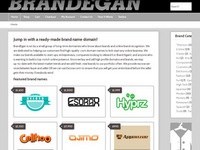 it has simply become a major task just to find a relevant dot com domain name that hasn't been taken
Atlanta, GA (PRWEB) February 04, 2014
The internet is full of catchy URLs that grace the lists of many of squatter sites hoping to hold the holy grail that will make them millions. The reality however is quite different. Back in the early dot com era, large companies that predated the globally used "interweb" fell victim to a virtual online real estate war. Guessing that the internet would be the next best thing since sliced bread, gave birth to the art of squatting. With URLs like vacationrentals.com going for $35 million in 2007 coming in fast and first with domain name seems to be a winning ticket.
These days however, when a startup or small business is being created, it is very common to build the company name around an available URL. Over the years, it has simply become a major task just to find a relevant dot com domain name that hasn't been taken. Brandegan.com, the new service created in partnership with the owner of ShrinkTheWeb, acquired and branded several high quality URLs and made them available to the public. First time website owners and online network builders are often times in need of a fast website solution and the new venture was designed with this market in mind.
When purchasing and/or developing a new website, the process usually starts with the selection of a name, then choosing site design and having a logo created that works. With a Brandegan, shoppers are able to quickly find and purchase catchy, easy to spell branded domain names that are sorted by category. The layout lets the buyer choose a name based on how it looks in addition to how it sounds. The pre-designed logos that come with the domain name saves site developers time and money by taking care of the domain name, logo design, and general site color theme, with one single purchase.
As with all businesses, time is money. This seems to be a common thread in the makers of ShrinkTheWeb's DNA. The fully automated website screenshot service was built on the concept that some things should take less time. Capturing a website screenshot is a process that took minutes to do manually and hours to days to be done with an automated process but now takes less that 30 seconds when using the ShrinkTheWeb PagePix service. In partnership with site design, branding, and marketing specialists, ShrinkTheWeb developed a way to make it faster and easier to bring an online idea from concept to reality.
About ShrinkTheWeb™
ShrinkTheWeb offers a service to fully automate the capture and delivery of web page
screenshots. The company was founded in 2009 and has been a driving force in the emerging automated website screenshot marketplace. ShrinkTheWeb has always held fast to the idea that website screenshots will eventually become a staple of the Internet. They will become a commonplace replacement or enhancement to simply showing a link. They are the natural evolution to linking and referencing on the web.
For more information, please visit http://learn.shrinktheweb.com