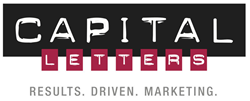 Marc Dutton Irrigation is one of the premiere sprinkler companies in Michigan. Capital Letters is proud to be working with them.
Ann Arbor, MI (PRWEB) March 06, 2014
Waterford-based Marc Dutton Irrigation has selected Capital Letters as their agency of record for all the company's marketing and advertising work.
As one of Michigan's oldest and most trusted irrigation company's, Marc Dutton Irrigation installs and services irrigation systems for commercial and residential markets.
"We want to grow our residential business even more." said Marc Dutton, "We chose Capital Letters for their expertise in all phases of marketing: digital, direct mail, and website design. They're a perfect fit for us."
Established in 1976, Marc Dutton Irrigation has designed and installed custom fountains and water features in some of Michigan's most prestigious settings, including the Renaissance Center in Detroit, Greenfield Village in Dearborn, and the Somerset Collection North in Troy. Marc Dutton Irrigation has also installed and serviced automatic sprinkler systems in thousands of Michigan's finest homes.
Capital Letters will develop a marketing plan that will include targeted direct mail campaigns, a redesigned website, and other strategic efforts.
"We're proud to be working with Marc Dutton Irrigation," said Chris Hippler, President of Capital Letters. "They have an outstanding reputation and we look forward to helping them grow their residential business with smart, strategic marketing."
Capital Letters is the Preferred Provider for marketing and websites for members of the Construction Association of Michigan (CAM).
About Capital Letters
Capital Letters (http://www.capitallettersmarketing.com) is a marketing company headquartered in Ann Arbor, Michigan. President Chris Hippler is a marketing strategist and team leader focused on securing results for clients through online and print media communications.