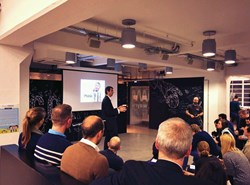 We are very grateful to Wayra for believing in us and supporting our mission to improve mental health worldwide.
London, UK (PRWEB UK) 3 February 2014
Virtually Free, a London based technology startup that creates health apps, has been selected to be part of the Wayra Accelerator Programme in London. This accelerator programme, sponsored by Telefonica, finds top startup businesses in the UK and worldwide and provides them with technological tools, qualified mentors, a cutting edge working space and the financing required to accelerate their growth.
Hundreds of companies applied to be part of the accelerator programme but only 13 made it through to receiving a space. The judges looked at projects with a large growth potential in the use of new technologies such as video, cloud services, financial services, future communications, user modelling, security, e-health, mobile apps, games, social innovation, e-commerce and localization services.
"We are very excited to be selected to the Wayra Accelerator Programme. Being part of this programme will give us a major boost and help us to achieve the next phase in our expansion plans. We feel it will be very valuable to gain access to the investment fund and the mentoring scheme," said Andres Fonseca, co-founder and CEO of Virtually Free.
Virtually Free has designed an innovative health app to tackle spider phobia called Phobia Free. Phobia Free, available on the iPad/iPhone exposes suffers to more and more realistic spiders over time. The app uses a novel interactive method to achieve this through relaxation techniques and in app gameplay while setting goals and tracking progress. Users of the app confront their fear by progressing from cute spiders all the way up to an augmented reality tarantula that looks and behaves like the real thing.
Andres continued by saying, "There was a gruelling selection process that we had to go through and we were competing against hundreds of companies from around the world. We met entrepreneurs with many different ideas applying digital technology to everything from education to aviation. We are very grateful to Wayra for believing in us and supporting our mission to improve mental health worldwide. We hope to use the investment and mentoring to bring our products to new markets and develop new apps in the near future."
About Virtually Free Ltd
Virtually Free (http://virtually-free.com/) develops apps to make therapy more appealing, accessible and affordable. Using gamification, serious games and augmented reality, the company seeks to recreate clinic therapies and bring them to mobile devices.
The company was founded in 2013 by two psychiatrists and a game developer. Doctors Russell Green and Andres Fonseca are members of the Royal College of Psychiatrists in Britain and have been helping patients recover from mental health conditions for 15 years. They have multiple peer-reviewed international publications and lecture at Sheffield University and University College London respectively. Richard Flower has developed games for 20 years and worked on major franchises such as Tomb Raider.
They founded Virtually Free because they believe it is important to give people tools to improve themselves without having to wait, jump through referral hoops or pay excessive therapy fees.