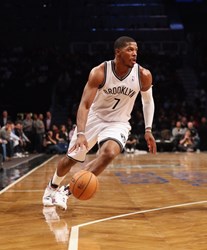 Denver, Colorado (PRWEB) February 03, 2014
It was a bleak New Year's in Brooklyn last month. There were no mid-season victory celebrations, no pats on the back for a job well done. Instead on January 1, the no-show Nets were sitting at a sorry 10-21 on the season.
But now, after losing six of seven to close out the year, Brooklyn appears to be playing with a New Year's resolution: stop losing. After five straight wins heading into Week 13, the team has bounced five spots back into the top 15 in this week's power rankings.
With victories over Oklahoma City, Miami and Dallas, the Nets seem to have found their groove for now. Part of the team's recent success has been due to stand-out former Arizona Razorback, Boston Celtic, Phoenix Suns and Atlanta Hawks shooting guard Joe Johnson, who has averaged 17.6 points, 3.8 rebounds, and 3.4 assists over the past 10 games.
"Despite their struggles over the first half, fans have remained faithful while ticket sales have continued to top our charts," said Marta Ault at online ticket marketplace BuyAnySeat.com. "The Nets have gained their focus and reworked their strategy as they make a fast break back into playoff contention."
"That's why we're proud to offer fans the most comprehensive and continuously updated selection of sports tickets online, with a worry-free guarantee to protect their purchase," added Ault.
"To access the full line-up of NBA Basketball tickets now available, customers can go to BuyAnySeat.com and click on the NBA Sports Header, then click on their team and their tickets."
Much of the early season slog has fallen on the shoulders of Jason Kidd. With the most expensive roster in NBA history at his fingertips, the poor play of his squad in the first half has raised questions about his capabilities as a head coach. However, as the team turns up the heat in the second half, it appears that some of that 100 million dollar payroll might be worthwhile.
The successes of Brooklyn's defense and its depth have been the key factors during the turn around this month. With last season's top scorer Brook Lopez out for the season and Deron Williams fighting a bad ankle, offensive production has been at a premium. Defense is turning the tide during their recent hot streak. The team is allowing 5.8 fewer points per 100 possessions than they did in their first 31 games.
With 14 different players averaging more than 10 minutes a night, other teams are struggling to keep up with the fresh legs. Opponents tallied more than 100 points 15 times against the Nets in the season's first two months, but have managed just over 93 in January.
The 2013–14 NBA season is the 68th season of the National Basketball Association (NBA). The regular season began on Tuesday October 29, 2013 and ends on Wednesday April 16, 2014. The All-Star Game will be played on February 16 at the New Orleans Arena in New Orleans, Louisiana and playoffs will begin on Saturday, April 19, 2014.
During the regular season, each team plays 82 games, 41 each home and away. Since there are 30 teams in the NBA, that adds up to a total of 1,230 games in each season - with up to 28 additional games for playoff teams.
The top ten teams in this week's power rankings are the 38-11 Oklahoma City Thunder, 36-10 Indiana Pacers, 34-13 Portland Trail Blazers, 33-13 Miami Heat, 34-13 San Antonio Spurs, 34-16 LA Clippers, 26-20 Memphis Grizzlies, 29-19 Golden State Warriors, 32-17 Houston Rockets and 29-18 Phoenix Suns.
Key matchups for the Nets this week include a tough trip to Indiana as they seek to stymie the Pacers before a two game home stand against the 76'ers and Spurs.
To shop for NBA Basketball tickets, visit BuyAnySeat.com.
About BuyAnySeat.com: An online ticket marketplace, BuyAnySeat.com connects sports, theater and other live entertainment fans to an extensive network of ticket sellers worldwide. The site's simplified listings and navigational tools enable shoppers to easily locate, compare and purchase inexpensive, discounted or lower-priced tickets to virtually all advertised sports and entertainment events around the globe.
The ticket marketplace, which is PCI-compliant and Norton Secured, also provides customers with a complete Worry-Free Guarantee on all ticket purchases. Based in Denver, Colorado, BuyAnySeat.com is a subsidiary of Denver Media Holdings. For more information, please visit http://buyanyseat.com.