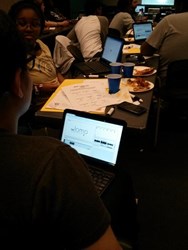 "It was a really different way to watch the Super Bowl and all the ads, and I don't think I'll watch them the same way ever again."
New York, NY (PRWEB) February 03, 2014
While the typical Super Bowl party includes a wide-screen TV and a bucket of hot wings, one Super Bowl party in New York City had something a little different: laptops transformed into video editing consoles. The event was Break the Super Bowl, run by NYC-based education nonprofit The LAMP, and the attendees were teens from the McBurney YMCA and the surrounding Chelsea neighborhood. Throughout the evening, participants were challenged to hone their media literacy skills by remixing and deconstructing Super Bowl commercials as they aired, ultimately creating original works of video criticism.
"It was a lot of fun," said one of the teens. "I felt like I was part of the game because I got to go in and rework the commercials. It was a really different way to see the Super Bowl and all the ads, and I don't think I'll watch them the same way ever again."
Break the Super Bowl 2014 kicked off with an overview of the different persuasive techniques advertisers use in commercials. Participants warmed up with a Bingo game of matching persuasive mechanisms to different Super Bowl commercials, and then moved on to the process of "breaking", or critically remixing, a Super Bowl commercial of their choice. Prizes were won throughout the evening for correctly answering trivia questions about how advertisements function, and for the two best broken Super Bowl commercials as voted on by the participants.
"I hadn't ever really paid that much attention to the commercials," said another teen who participated in the event. "I thought they were funny, and didn't take them seriously, but now I see how they can really change the way people think."
Pizza for the event was provided by John's of Bleecker Street. Prizes were generously donated by Dubspot, eKnowledge Corporation, Fat Witch Bakery, ID Me Bands, NBC 4 New York, People's Pops, Tekserve, the Meatball Shop and Wix.com.