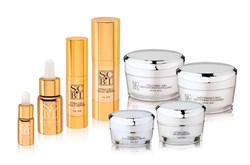 Micro-needling and Microdermabrasion are more effective when used with SCBI products which results in tighter firmer skin.
Beverly Hills, California (PRWEB) February 04, 2014
Stem Cell Beauty Innovations / SCBI LLC http://www.scbinet.com launched their line of all natural stem cell products in Harvey Nichols London this week. SCBI's stem cell gold serum represents the latest in skin care to regenerate and de-age the skin. Top celebrities including Victoria Beckham and Simon Cowell have reportedly used the stem cell products derived from sheep placenta.
SCBI products are increasingly being used by top dermatologists, plastic surgeons and estheticians to help reduce fine lines and wrinkles, eliminate age spots, heal acne and reduce the inflammation associated with rosacea.
Micro-needling and Microdermabrasion are among the top nonsurgical procedures and when Stem Cell Beauty Innovations products are used with these treatments the results are more effective with little or no down time. The stem cells stimulate cellular renewal and increase the production of proteins, which triggers the skins natural healing response, which includes stimulating new collagen production. This results in tighter and firmer skin with diminished fine lines and wrinkles.
The SCBI stem cell products ingredients are all natural and contain no chemicals or parabens. "We use only the purest ingredients from New Zealand one of cleanest places on the planet," says Neal Gray VP of SCBI. The SCBI stem cell products are used in the stem cell facial and the client takes home the product to use daily to help maintain the results. Professional treatments can be scheduled at BeyondMedispa located within Harvey Nichols.
Stem Cell Beauty Innovations / SCBI LLC SCBI LLC was created in 2010 with the main goal of distributing and formulating an all-natural line of skin care cosmetic products.
The products contain ovine placenta from sheep post birth so there is absolutely no harm to the animals. Other active ingredients include chamomile, grape seed and 24 carat gold flakes. SCBI products are cruelty free.
The SCBI products are manufactured in FDA registered labs in New Zealand. Stem Cell Beauty Innovations products are certified and licensed by the New Zealand Government as well as world bodies. The SCBI brand is also Halal Certified and represents the first stem cell product to be offered for sale in the Middle East.
###
If you'd like more information about this product, or schedule an interview, please call Neal Gray at 310-471-1575 x 3 or email at neal(at)scbinet(dot)com.