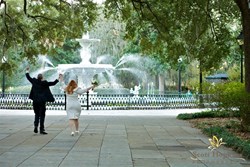 seeking out a more relaxed approach and laid back atmosphere for their special day and what better place than Savannah, Georgia...
Savannah, GA (PRWEB) February 12, 2014
As an alternative to hotels for weddings in southern Savannah, GA, Forsyth Park Inn offers a specially designed elopement package to assist in planning a uniquely romantic celebration within the privacy of a courtyard garden. These days, elopements aren't just a visit to the local court house. Instead, couples still want to make their special day stand out; they want minimal planning, a few specialty details, and a beautiful destination. Booking an elopement package helps make those key details and desires happen.
Forsyth Park Inn's Simply Savannah Garden Elopement includes:

A private garden ceremony for the bride and groom
An experienced officiant to assist in the vows
Planning coordination and day-of assistance
A beautiful bridal rose bouquet and a matching boutonnière for the groom
A two-tier mini wedding cake served in the garden
And a choice of romantic rose petal and candle turn-down on honeymoon night or a champagne toast to celebrate the big day!
Total with tax: $875.00
We've found the top 4 reasons couples are choosing to elope over having that traditional large wedding ceremony…
1. Hassel free! The stress that can come with planning a large wedding often feels overwhelming and couples forget to relax and enjoy their day. Eloping means no specialty invites need to be sent, no complicated guest lists to decipher, and much more focus on the bride and groom.
2. Eloping saves money! Today's traditional weddings are said to cost upwards of $20,000; of course, prices vary depending on what is included, but eloping will always cost a fraction of a traditional wedding. Save that money for a fabulous reception after returning from a destination elopement…or put it towards an extended honeymoon....
3. Elopements are quicker! Long engagements aren't for everyone; a traditional wedding often takes up to a year or more to plan, but an elopement can be coordinated with just a week's notice.
4. Feel the true meaning of the day! Eloping can truly be intimate. One of the most important days of a couple's lives together is certainly deserving of intimacy and closeness. Vows can be expressed to one another with no hesitation in an elopement setting.
For more information about Forsyth Park Inn elopements and weddings visit:
http://www.forsythparkinn.com or contact the wedding coordinator, Andrea, at 866.670.6800 / innkeeper(at)forsythparkinn(dot)com.