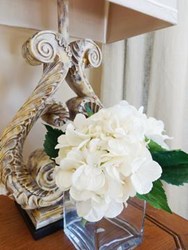 "We never dreamed of being able to provide a service to clients in California, Texas or Florida but we're doing just that. We are delighted to be part of an on trend service that is both challenging and rewarding."
Birmingham, AL (PRWEB) February 04, 2014
In 2009, when home staging was still in its infancy in Birmingham, residential homeowners lacked the necessary resources and services to be able to stage their vacant properties. "When we started our home staging business, we were the first professional staging company to offer a complete turnkey staging service for vacant homes. Previously, that service was afforded only to Builders who largely relied upon Interior Designers to stage or decorate their model homes" says Lisa Bond, Owner and Founder of White Birch Interiors http://www.whitebirchinteriors.com.
"We set out to create the same type of service for homeowners because there was a definite need for it. So, we created a strong business model that provided everything for homeowners." Before long, the company's business service grew to expand and provide services to out of town property owners. "We began receiving phone calls from homeowners who lived in other states, but still had homes here in Birmingham that were vacant and just sitting there. We began servicing clients in Texas, California, Florida and several other states... we provided everything from third party cleaning services, to the complete installation and pickup of rental inventory. We also provided Market Preparation Consults via telephone. We even provided weekly home tending services to check on our clients' homes and to keep the property in show condition until it sold. At one point, 90% of my clients were homeowners that I had never personally met."
As her staging business grew, so did the calls for a decorating and redesign service. "We started getting phone calls and inquiries about redesign services, both locally and long distance." Lisa started creating digital design boards mainly to keep track of design concepts and ideas, but also to email those 'concepts' to clients. "A traditional design board can be rather cumbersome to show to a client, especially if you are doing more than one and transporting them in a car. They definitely aren't timely or efficient for someone in another state. With an E Design Board, clients can view them quickly on a tablet, ipad or as an email attachment and keep them stored there."
To be able to keep up with her long distance requests, she came up with something better and something no other decorating or design firm in Birmingham provides - a complete E Design Service. "We provide a complete design concept - an E Design Board, Sourcing, a Furniture Layout, a 3D elevation, and step by step instructions for redesigning or styling a room. We can provide designs from any inspiration that the client gives us, based on their budget, or we can incorporate any items to remain in a design plan.." To that end, it's always the client focus that's kept in mind. "The client has complete control over the timing of the project, and can readily make any change outs such as a different rug, lamp, chair or artwork. We provide enough choices that all the pieces work without affecting the actual design concept. What could be better than that? The client can style their room at their own leisure and shop from the comfort of their home. They can do as little or as much as they want without having to commit to the whole process at once."
More recently, Lisa received a telephone call from a former client that was now in Florida. Her husband had another job opportunity in another state, which meant the client and her children would stay behind until the school year was over. She thought it would be easier if they moved in with her family and then stage the property. After a short phone consult, Lisa says her first reaction was "Why not? The E Design Concept could absolutely work for staging a property." She set out to find a solution that would help long distance homeowners stage their properties and assist them all the way through closing. Hence, the idea "Concept to Close™" was born.
"The "Concept to Close™' idea was born out of necessity. I didn't want to let my client down, especially when she said, "I wish you were here to do this." The light just came on." To contact Lisa for complete E Design or E Staging Services, please visit http://www.whitebirchinteriors.com. or call 855-WHT-BRCH.