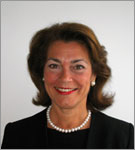 "No two families are ever alike, yet so many different families report the same challenges."
Chicago, Il (PRWEB) February 03, 2014
Mack International LLC, the premier family office/wealth management retained executive search and consulting services firm, announced today that the firm's Founder and President Linda C. Mack will be a featured panelist at the 9th Annual LIDO Family Office Investment Symposium (FOIS) at The Beverly Hills Hotel, Beverly Hills Calif. on Feb. 5-7. Ms. Mack is also a member of the symposium's Advisory Board.
More than 400 investors and industry experts from across the family office arena will gather at the symposium for two-and-a-half days of networking and educational panels. Notable scheduled speakers include former President Jimmy Carter and Captain Richard Phillips, portrayed by Tom Hanks in the eponymous Golden-Globe-nominated major motion picture.
Linda Mack will co-present the first session of the event with Greg Kushner, president of Lido Consulting and host of the symposium, discussing "Trends in the Family Office." Tom Handler, Partner, Handler Thayer, LLP will moderate the session.
"No two families are ever alike, yet so many different families report the same challenges," Mack said. "Attendees can look forward to an informative discussion on family office compensation trends in the marketplace, including how different families align structures with family goals. We'll also address the current state of succession planning in family offices, and will share best practices in managing the various challenges along with examples of what has worked and not worked for families, and why."
Kushner will discuss a variety of trends as well, including how to identify and select an Advisor you can trust, how to discuss wealth with next generations and more. His presentation will include a review of recent surveys of the family office industry and highlight topics and concerns addressed the previous afternoon in a private peer-to-peer family office roundtable.
Additional topics to be explored at the symposium include a 2014 economic outlook, alternative investing strategies, legislative updates, real estate investment opportunities, trends in emerging markets, estate planning, impactful investing, and philanthropy, among others.
About Mack International
Mack International, LLC, headquartered in Chicago, is a global consulting and retained executive search and strategic management/human capital consulting firm serving national and international clients in the family office, family business enterprise and wealth management industries. Mack International is known for its unmatched industry expertise, in-depth market knowledge and unparalleled track record of success. For more information, visit http://www.mackinternational.com or call 800.976.0015.