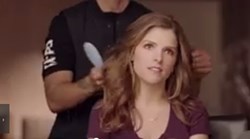 Newcastle Brown Ale beer is producing commercials about how they cannot buy advertising time during the Super Bowl.
(PRWEB) February 13, 2014
Newcastle Brown Ale has initiated a riotous new self-deprecating ad to satirize the pre-Super Bowl hysteria. Its newest sport stars commercial actress Anna Kendrick, and it is now viral on the web.
This Sunday, February 2, is Super Bowl Sunday. As usual, commercial spots during the game were expensive and highly sought after this time around. For a creative ad campaign, Newcastle Brown Ale beer is producing commercials about how they cannot buy advertising time during the Super Bowl. The notion has paid off as the TV spots have all been quite popular. The latest may be their best though.
The video features Anna Kendrick ("Pitch Perfect," "Scott Pilgrim Vs. the World") playing as herself, being pampered in a hair and makeup chair, mourning the fact that her planned Super Bowl commercial job was called off due to lack of funds. She discusses her lost paycheck, her hotness, and the fact that the words "Super Bowl" (and a few obscenities) are "bleeped" whenever she says them. It is a charming and playful shot at the over-hype of Super Bowl advertising.
It is always appealing seeing an actor or actress poke fun at themselves and pop culture. With all of the acting auditions they go through, and all of the acting wisdom and acting tips they must process, many take themselves too seriously. It is nice to see someone who is down to Earth.
Since its debut in 2003, ExploreTalent has become the Internet's largest resource for actors, models, musicians, dancers, and production crew. Explore Talent's proprietary cast match technology is the most advanced entertainment-based technology of its kind. It matches a talent's attributes against tens of thousands of job postings every day. Explore Talent's unique technology sends casting email alerts and posts auditions and jobs directly on talents' profiles, saving members hours of time from tedious searching.
Explore Talent has proven to be the best possible destination for talent to find modeling and acting auditions with well over 7.9 million members and over 60,000 auditions, castings, and production jobs listed - 40 times more postings and open casting calls than any other site.
The site's popularity is based on the fact that there are many ways for talents to network, make friends and connect with other industry players, participate in a wide variety of contests and earn prizes for being active on the site. The online community has been responsible for new collaborations and business ventures in entertainment because of opportunities for individuals to network and chat with each other. Furthermore, the Explore Talent site features celebrity videos, exclusive interviews with actors, actresses, and musicians, such as Akon and T-Pain.
Check ExploreTalent.com for more Commercial Modeling jobs.