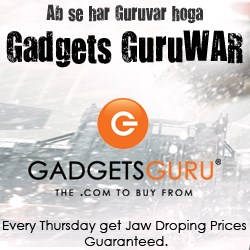 Gadgets Guru WAR!
(PRWEB) February 05, 2014
India's Pioneer Gadgetry eCommerce website GadgetsGuru.com launches its new Advertising campaign called Price War. A number of best and Top 100 products will be on sale every Thursday. A bid to compete with other eCommerce giants in India, GadgetsGuru will be giving heavy discounts on selected products every Thursday (Guruvar in Hindi).
GadgetsGuru.com, founded by Arun Kapoor, has been in the market since January 2005. A slow and steady growth strategy has indeed take this brand to a new higher level. The CEO of GadgetsGuru has surely played a well balance role to convert all of this Investment to best ROI. The strategies of GadgetsGuru have been the best to date and the Technology focused online portal have been producing the best results in this emerging era of eCommerce in India.
Email: sales(at)gadgetsguru(dot)com
Ph: +91 22 6130 1111.
http://www.gadgetsguru.com