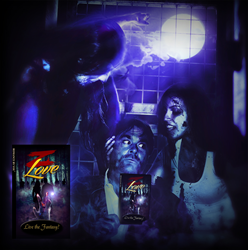 Passion, zombies and romance - what more can you ask for!
(PRWEB) February 05, 2014
Leading publisher of personalized novels Book By You takes a page out of Max Brooks' best-seller "The Zombie Survival Guide" with their latest release, Z LOVE. Action-packed and extra steamy, this personalized romance novel will turn the heat ip big time this Valentine's Day.
Featuring a gun-wielding ex-cop powerhouse as leading lady who decides to take a vacation at her cottage in the remote town of Coboconk, where there are more trees than people. She's expecting a relaxing, worry-free break from her exhausting work as a private investigator in the big city, not to mention the added bonus of the hunky scientist next door. But when the neighbors start acting strangely, her vacation takes a turn for the worse. In the midst of fighting off the undead, wrangling survivors, and digging through clues in attempts to get to the bottom of a full-on Zombie Apocalypse, she finds herself helplessly attracted to her brainy neighbor, who just so happens to work at the lab that appears to be the source of the outbreak. She may be fighting to protect both of them, but she can't help but feel a little something more for him. Unfortunately, they'll need more than just Cupid's Arrow to defeat these zombies. Will all the flying sparks have time to ignite into a fiery romance, or will the hero and heroine be consumed by their own friends and neighbors?
This Valentine's Day, lovers can give the most one-of-a-kind thrill to each other with a personalized version of Z LOVE. They select the hero and heroine, plus a sassy friend and a pet, to create a unique gift that will make this Valentine's Day the best one yet. Z LOVE is personalized by providing specific information like loved-one's names, features, even favorite drinks and places, and over twenty-five other unique characteristics to make their fantasy world a reality. A spouse, friends, family, and even beloved pets can be included, too! The result is a full-length paperback or hardcover that can be further personalized with a one-of-a-kind cover and special uploaded photo for the back cover, adding up to the ultimate, unforgettable romantic read!
Book By You's entire personalized collection is now also available as personalized ebooks. Personalized ebooks are available for download immediately upon ordering— the perfect last minute Valentine's gift. To make them especially unique, each ebook includes a free photo upload feature. Add a steamy personalized Valentine's dedication, and the result is a remarkable ebook that can be taken anywhere and read any time.
To purchase a personalized novel, romance lovers go to the company's website at BookByYou.com and complete a character questionnaire specifying the information to be included in their book. The company offers a free demonstration area where readers can preview personalized excerpts from any of the company's teen, romance, mystery or children's personalized books. Media interviews and promotional images are available upon request.
BookByYou.com has received national media coverage and has been featured on ABC's The View, CNN, Fox News, The Wall Street Journal, Jimmy Kimmel Live and many additional media outlets.
BookByYou.com is an interactive publishing company and the world's largest provider of personalized books. Media interviews, promotions and give-aways are available upon request. Please contact Michael Pocock at 1-877-898-1440 or publish(at)BookByYou(dot)com