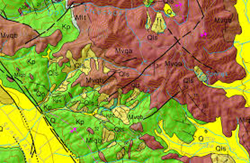 Geologic mapping @ EurekaMag.com
Mannheim, Germany (PRWEB) February 04, 2014
EurekaMag.com has newly published 1,874 new articles on geologic mapping. While the site's Research Category extensively covers geologic or geological maps which are special-purpose maps made to show geological features, the Life, Earth & Health Sciences Research Section 20 provides multiple articles on geological features including nature and distribution of rock units, and the occurrence of structural features, mineral deposits, and fossil localities.
The Life, Earth & Health Sciences Research Chapter 19025 presents a selection of the current total of 1,874 references and abstracts on geological mapping including stratigraphic maps which feature contour lines to illustrate the surface of a selected stratum illustrating the subsurface topographic trends of the strata, and on isopach maps detail the variations in thickness of stratigraphic units. It includes summaries on geologic mapping of the Ladakh Himalaya by computer processing of Landsat data, geologic mapping of the Lake Clark Quadrangle, Alaska and geochronologic constraints on the evolution of the Tlikakila Complex and the Paleogene magmatic history of the region, geologic mapping of the Massachusetts inner continental shelf for science-based management of ocean resources, geologic mapping of the northern leading hemisphere of Europa from Galileo solid-state imaging data, geologic mapping of the Medusae Fossae Formation on Mars, geologic mapping of the Reull Vallis region of Mars, geologic mapping of the Ovda Regio Quadrangle (V35) on Venus, and geologic mapping of the southern Venus including first results on Laimdota Planitia and Nsomeka Planitia sectors.
EurekaMag.com was launched in 1998 and has become a comprehensive publisher of references in biology, in the applied life sciences agriculture, horticulture and forestry, in the earth sciences, in the environmental sciences, and in the health sciences. After its latest update stemming largely from the agricultural sciences, it contains a total of 38,897,688 bibliographic references from as early as the beginning of the 18th century (1703). 58% of these entries feature a summary of their scientific content. Besides its new streamlined design and a much improved site search, the site features a mobile version for smartphones and frequently updated accounts at Twitter, Facebook, LinkedIn and Google+.