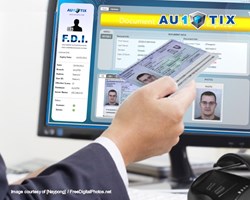 Ealing council has taken the initiative to harness the latest technology to do both much more efficiently. We have tested the FDI system "in the field" thoroughly and found this technology not just effective but also cost-efficient.
Nicosia, Cyprus (PRWEB) February 04, 2014
London Borough of Ealing has decided, after 6 months of field-testing, to deploy the AU10TX FDI system for authentication and validation of identifying documents, and their conversion to workable digital records. The agreement has been signed for an initial period of 3 years.
The AU10TIX FDI (Front-end Document Identification) system will enable London's Ealing benefit officers and fraud investigators to obtain, within seconds, the results of a comprehensive set of forgery and validity checks – all with simple placing of the ID documents on the system scanner.
The system will also extract all document data making it readily available for processing claims quickly and efficiently on the council's computing system. With the introduction of AU10TIX FDI, Ealing Borough Council will be able to improve the speed and accuracy of ID document forgery detection, which many councils still carry out manually. Council fraud investigators will be able to use FDI as an alert system which draws their attention to sophisticated fraud attempts.
Identity fraud is the most prevalent form of fraud in the UK today. Recent research report revealed that 46% of financial fraud attempts involve identity theft – almost double the rate (27%) of cases detected in 2012! (Source: http://www.thetelegraphandargus.co.uk/archive/2013/11/20/10820143.Identity_theft__a_rising_threat_/). According to some estimates, UK's benefit fraud damages amount to as much as £5.5bn a year! These huge numbers cannot be policed effectively (Source: http://www.benefitfraud.org.uk/), so early detection and deterrence are critical.
"We are here to provide quick and efficient service to our residents, and at the same time prevent waste of tax payers' money on fraud", says John Allsop, Audit & Risk Manager of Ealing council: "Ealing council has taken the initiative to harness the latest technology to do both much more efficiently. We have tested the FDI system 'in the field' thoroughly and found this technology not just effective but also cost-efficient. Fraudsters out there better think twice before attempting to submit forged or tampered ID documents".
"With the AU10TIX FDI technology, Ealing's benefit officers and fraud investigators have just become much quicker and much more accurate at spotting even the most sophisticated ID document fraud attempts", says Ron Atzmon, Managing Director of AU10TIX: "This is the result of more than 20 years of experience in ID fraud detection technology solutions. These solutions were originally designed for security-critical environments such as border control and aviation… this technology costs a fraction of what it is capable of saving. In today's economic environment they become ever more relevant for councils in the UK and elsewhere".
About London Borough of Ealing
With almost 340,000 inhabitants, Ealing is London's 15th largest borough. Ealing provides its residents with the full range of services, including a wide range of social benefits. Like other London boroughs, Ealing also faces benefit fraud attempts, and employs an able fraud investigation team. London Borough of Ealing is a forerunner of adopting new technology to improve resident service experience, increase operating efficiency and combat crime.
For more information, visit: http://www.ealing.gov.uk/site/.
About AU10TIX
AU10TIX Limited, a fully owned subsidiary of ICTS International N.V, deals with the authentication and digitization of identifying documents including Passports, identity cards, driving licenses and other complementary identifying documents. The company specializes in implementing hardware & software based applications used for scanning, identifying, content retrieval, authentication and validation of identifying documents. AU10TIX is a pioneer of all-channel (front-end and online) ID authentication and processing solutions. The company's products drastically reduce identifying document-based fraud, reducing the costs associated with client processing and enabling effective regulatory compliance, while making the sales and support operations speedier and considerably more efficient.
For more information, visit http://www.au10tix.com.
About ICTS International N.V.
ICTS specializes in the development and implementation of innovative security concepts and solutions designed to meet the needs of a variety of industries, mainly aviation transportation, border control and sensitive facilities. ICTS International benefits from over two decades of expertise and international operational experience in transportation security, with a particular emphasis on high-risk environments, passenger processing transactions and the integration of security services to provide a comprehensive security solution. It also offers a wide variety of customized training programs, tailored procedures and a wide range of security consulting services. The company has developed and implemented unique technological solutions, based on its comprehensive approach to security, designed to enhance the level of security while accelerating the security check process.
For more information, visit http://www.icts-int.com.
This press release contains "forward-looking statements" within the meaning of the Private Securities Litigation Reform Act of 1995, regarding the Company's business strategy and future plans of operations. Forward-looking statements involve known and unknown risks and uncertainties, both general and specific to the matters discussed in this press release. These and other important factors, including those mentioned in various Securities and Exchange Commission filings made periodically by the Company, may cause the Company's actual results and performance to differ materially from the future results and performance expressed in or implied by such forward-looking statements. The forward-looking statements contained in this press release speak only as of the date hereof and the Company expressly disclaims any obligation to provide public updates, revisions or amendments to any forward-looking statements made herein to reflect changes in the Company's expectations or future events.
Contact:
London Borough of Ealing
John Allsop, Audit & Risk Manager
Email: allsopj(at)ealing(dot)gov.uk
Tel.: +44-208-825 6078
AU10TIX
Ofer Friedman, Director of Marketing
Email: ofer.friedman(at)au10tix(dot)com
Tel.: +972-50-4 71 71 50
ICTS International NV
Alon Raich
Email: mail(at)ictsinternational(dot)com
Tel.: + 972-974-47770