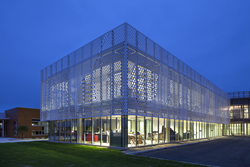 HI-MACS® was chosen because it helps regulate the façade which is exposed to large amounts of sunlight and reduce high levels of energy due to radiation thanks to its perforated material.
(PRWEB UK) 4 February 2014
The head of the company PAD made up of 14 employees, Frédéric Périot, a licensed architect graduated from the School of Architecture in Nantes, France, takes a fresh look at incorporating buildings into their environment. He created the project's initial design. By integrating a perforated mesh-like façade into his design, Périot knew exactly how to stand out from the other four short-listed companies selected by BENETEAU. The project had many requirements, including the challenge of designing a work in an open space in order to create a building which is fully exposed to natural sunlight. The world's leading sailing yacht manufacturer relied on PAD for this project, which consists of two different buildings separated by a patio and connected by a glass gallery.
Wanting to follow the original design as closely as possible, BERI 21, the project manager and in-house general contractor for BENETEAU, started to look for different materials used in other façades while the structure was being designed. After discovering HI-MACS® material in a sailing yacht shower room (there is no coincidence here), the company quickly contacted HI-MACS®. Although HI-MACS® material was an obvious solution, it was officially selected only after its fastening system was tested and approved.
The main southern facing façade with the mesh-like design is built in HI-MACS® and identifies BENETEAU headquarters. Thanks to the adaptability and excellent thermoformability of this new generation acrylic stone, BERI 21 was able to create this remarkable work. The material was installed by MCS company teams. HI-MACS® is the first Solid Surface on the market to have been granted European Technical Approval and the ideal material for all different types of structures.
HI-MACS® was chosen because it helps regulate the façade which is exposed to large amounts of sunlight and reduce high levels of energy due to radiation thanks to its perforated material. Its random mesh-like design represents BENETEAU's logo and its irregular perforated pattern gives the impression that the façade is moving, like a wave coming to cover and protect the building.
For BERI 21 and BENETEAU, it was a pleasure working with HI-MACS® with its white colour and reaction to light, giving the material a matte and velvety texture. In addition, its appearance is just as beautiful from either side, allowing you to appreciate it from both the inside and outside. Its mesh-like wall is built away from the glass façade along the gallery, covering the entire building.
The HI-MACS® façade (shade S28) has a perforation rate of nearly 50%. There are many advantages in working with HI-MACS® on this project. Designers were able to reach the desired level of transparency and choose variations in the perforation in order to incorporate the logo.
HI-MACS® creates a balance between the project's size and structural system. Also, panels were installed and attached to metal posts making the structure seem light and delicate. For the LCCA fabricator, the main constraint was to hide the fastening systems while allowing for the mechanical stress related to the exhibit. HI-MACS® knew how to meet the expectations of both the client and various service providers.
About PAD:
The company PAD is specifically committed to working with the environment, designing energy efficient and environmentally friendly structures and meeting the needs of all contractors. Right from the design, their creations include low-energy performances, passive buildings and positive energy structures thanks to specific IT tools, whether for housing, hotels, hospitals or other industrial buildings.
BENETEAU FAÇADE
PROJECT INFORMATION
PROJECT: Beneteau Group headquarters' façade
____________________________________________________
LOCATION: Givrand (Saint-Gilles-Croix-de-Vie area), France
____________________________________________________
DESIGN: PAD Architectes for BERI 21
____________________________________________________
FABRICATION: LCCA
____________________________________________________
MATERIAL: HI-MACS ® Alpine White
____________________________________________________
INSTALLATION: MCS
____________________________________________________
PHOTOGRAPHER: Mathieu Ducros©
Notes for the editor:
HI-MACS® FOR THE FAÇADES

Endless design possibilities thanks to its thermoformability and unique design.
Unique guarantee: 5-year guarantee on UV resistant colours, for a tolerance of Delta E3 Delta E4 and on the loss of shine (over 40%), 10-year guarantee on the sweating of colours and 20-year guarantee on the chipping, swelling or peeling of colours.
A strong weather-resistant material (only includes the 15 colours of our range indicated by a ΔE3 or ΔE4).
Easy to maintain: non-porous, it can be re-sanded in order to get rid of marks overtime.
Fire-resistant HI-MACS® FR: "LNE fire certification" – class M1 and B1 by the Siemens Institute.
The material is ETA certified and considered suitable for use on façades when HI-MACS® FR is used in combination with Keil inserts and BWM profiles.
Invisible fastening systems.