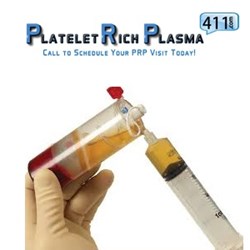 (PRWEB) February 03, 2014
Primarily known across the nation as one of the first web-based online search-and-booking platforms specifically constructed to accommodate pain patients and prolotherapy practices within the niche of regenerative medicine, PRP411.com has become one of the most trusted names in non-invasive healing. Consistently upholding its initial mission of proudly assisting any prolotherapy physician who supports and willingly practices the innovative method of healing of healing known as platelet-rich plasma therapy, the company is looking to satisfy a massive influx of patients that have been requesting this up-and-coming form of regenerative medicine. With it's sights set on the state of Arizona, PRP411 is calling all doctors who perform PRP therapy to list with this service and become a part of something bigger.
Platelet-rich plasma therapy has been recognized as the go-to source of treatment for world-class athletes over the last decade. Potential Hall of Fame quarterback Peyton Manning has utilized PRP and even Olympic gold medalist and NBA World Champion Kobe Bryant has been a prolotherapy patient. Unlike many other forms of healing, PRP is a non-invasive procedure that is responsible for helping accelerate the mending process of debilitating injuries. Arizona pain patients are starting to realize that this regenerative therapy treatment is the real deal. In fact, PRP as a medical option for Arizona pain patients is currently becoming one of the most popular forms of regenerative healing in the Grand Canyon State.
As aforementioned, PRP injections for pain and injuries involves a method of non-invasive administration so that Arizona patients are not obligated to spend any time in a hospital-based setting for recovery. The last thing a patient wants to do is have to spend hours or even days in a hospital. PRP injections are able to take place right in an Arizona prolotherapy doctor's office, in which a patient's blood sample is obtained and put into a centrifuge that separates the blood into its many components. After spinning through this machine, platelet-rich plasma is then collected and treated before it is re-administered into the patient's injured area.
It has become a proven fact that all Arizona patients who choose this method of healing are in line for experiencing a significantly reduced length of stay. The body's ability to ambulate sooner immediately becomes enhanced with platelet-rich plasma treatment, a shocking revelation for those who typically would need to recover from a surgical procedure. Patients who are located in Arizona have sought after this treatment are usually suffering from a document-driven medical condition that greatly hinders or degrades any ability to strive in everyday activities. Many patients have chronic or debilitating pain associated with a condition such as osteoarthritis of the knee, shoulder, hip and spine, rotator cuff tears, chronic plantar fasciitis, anterior cruciate ligament (abbreviated A.C.L.) injuries.
Platelet-rich plasma therapy in Arizona is beginning to become a driving force for healthcare in the Grand Canyon State, drastically changing the way patients view pain treatments and increasing a patient's overall wellness without any recuperation. As a subscription-based healthcare service, PRP411.com is actively searching for Arizona prolotherapy doctors. The company wants to continue to revolutionize the way healthcare is currently practiced and perceived. Boasting an entire network of some of the United State's finest regenerative medicine physicians, PRP411 places major emphasis on reaching out to all Arizona platelet-rich plasma doctors who wish to join this large movement and take in the patient influx this company receives.