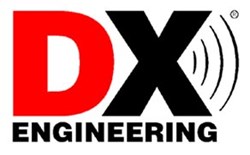 Tallmadge, OH (PRWEB) February 04, 2014
DX Engineering of Tallmadge, Ohio is now the exclusive source for KD9SV Products Low Band receive transformers, preamplifiers, antenna switching units and other products. KD9SV Products has been helping enthusiasts get the most from their Low Band receiving antenna systems for over 25 years.
Starting with a 160 meter preamplifier in 1987, Gary Nichols KD9SV has designed, built, improved, and sold professional-quality receive devices—helping Amateur Radio operators pursue 160 and 80 meter DX contacts. Gary now has over 300 confirmed countries on the top band using circuits that he built to improve 160 meter reception.
DX Engineering carries these KD9SV products:

Front End Savers for receivers and transceivers
• 160 meter and 80/160 meter preamplifiers

9:1 Beverage antenna transformers
160 meter bandpass receive filters
DXpedition receive antenna switches
Two-direction Beverage antenna system kits
Keying relays, pennant transformers, Magic-T receive splitter-combiner and DIN adapter cables
Link to All KD9SV Products at DX Engineering
DX Engineering
http://www.DXEngineering.com
1-800-777-0703
ABOUT DX ENGINEERING
At DX Engineering, Amateur Radio is all we do. Our goal is simple: fulfill the needs of Ham radio enthusiasts with the best products and technical support. Whether it's DXing, Contesting or just plain everyday operating, we strive to develop products that fill a specific need, products that are reliable, fully tested and represent the best value for your money. DX Engineering also carries the highest-quality products from brands that meet our exacting standards.