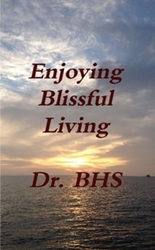 San Francisco, CA (PRWEB) February 05, 2014
One moment, one epiphany, one life changed forever.
In an unexpected and surreal twist of life, Dr. Bindya HSB Singh found herself on the Mayan site of Chichan Itza on December 22, 2012 – the fateful day the Mayans were perceived to have predicted the end of the world.
As if pulled into a trance, a simple realization allowed Dr. Singh to connect her inner-self to the powers of the universe. The depth and truth of the prediction became apparent as she researched thousands of years of wisdom leading up to the Epiphany.
"The New World Begins" and "Enjoying Blissful Living", the two new books by Dr. Singh, offer the simple secret of how to tap into our true potential of living out of our soul.
Dr. Singh believes that once people stop living out of their minds and tap into their soul, they are able to experience their true identity, which is precisely when their real, enjoyable and blissful journey begins.
Dr. Singh is convinced that most of the world's problems stem from the egoistic stronghold of human mind.
By sharing insight and wisdom from all religions, Dr. Singh helps readers from all faith backgrounds better understand that life here on earth is not the only life we as humans get to experience.
Dr. Singh shows us how to lift the curtain we are living behind in order to start living a life of bliss in her books "Enjoying Blissful Living" and "The New World Begins".
"Enjoying Blissful Living" and " The New World Begins"
By Dr. Bindya Singh
ISBN: 978-1-49080-857-4
Available at Amazon, Barnes and Noble and AuthorHouse online bookstores
About the author:
Dr. Bindya Singh has been a physician for over 27 years. In addition to being a scientist, researcher and author of many articles and books, Dr. Singh runs the not-for-profit Healthy Center Foundation with a mission of promoting health and well-being of each and every individual. Dr. Singh practices in the Bay Area and has used soulful insights to treat resistant chronic psychosomatic conditions.
###
**FOR IMMEDIATE RELEASE**
EDITORS: For review copies or interview requests, contact:
Publicist: Jonathon McAfee
jmcafee(at)bohlsengroup(dot)com | 317-602-7137
(When requesting a review copy, please provide a street address.)