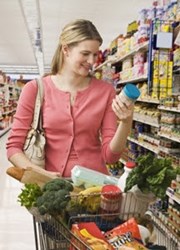 In order to maintain compliance with FDA labeling regulations, brands are going to have to quickly update labels. This is a unique chance for food producers to demonstrate they are ahead of the curve.
Denver, CO (PRWEB) February 04, 2014
Lightning Labels, leader in printing custom labels and stickers, is helping brands prepare for the upcoming U.S. Federal Drug Administration's nutrition facts update. Since knowledge about nutrition has evolved since the 1990s when the current regulations were put in place, the FDA believes printable nutrition labels should be updated to reflect new scientific findings. The FDA has sent its new guidelines to the White House, but Michael Taylor, the FDA's deputy commissioner for foods, is not sure when the new rules will be released.
"In order to maintain compliance with FDA labeling regulations, brands are going to have to quickly update labels," said AnneMarie Campbell, Business Development Manager at Lightning Labels. "It is extremely important that companies implement changes to avoid fines. This is a unique chance for food producers to demonstrate they are ahead of the curve."
More people are reading labels than ever before, according to a survey from the Agriculture Department. Transparency on labels is not only a legal requirement, but greatly beneficial for gaining customer trust.
FDA Labeling Requirements May Target Calories Over Fat:
Brands will need to make certain changes to meet new FDA labeling requirements. One of the main changes is likely to be a greater focus on calorie content, according to the Associated Press. In the early 1990s, the labels made fat content more prominent. However, health experts have been targeting specific fats for dietary exclusion, particularly trans and saturated fats. Other good fats can actually be a beneficial part of a healthy diet. For the new labeling requirements, the number of calories is likely to be more prominent than fat content. The "calories from fat" portion of the label may disappear.
Other Potential Changes to Food Label Requirements:
While the food label requirements will not be set in stone until they are released, many officials expect certain other changes will be included. Health advocates hope that FDA mandates specification for sugars and syrups that are not naturally occurring. Others hope food companies will be required to add the percentage of whole wheat in products making this claim on the label. Whether or not these changes are actually implemented, they do present a guideline for consumer beliefs about what labels should say. Brands can use this information to increase consumer trust in products.
Customers appreciate honest packaging, whether or not it is government mandated. For companies ready to refresh their nutrition facts labels now, Lightning Labels offers free ground shipping for all orders placed online and shipped within the U.S. and Canada. Visit Lightning Labels.com for more information or updated promotions.
About Lightning Labels:
Lightning Labels uses state-of-the-art printing technology to provide affordable, full-color custom labels and custom stickers of all shapes and sizes, and now offers a full line of custom packaging products. From small orders for individuals, to the bulk needs of big businesses, Lightning Labels is equipped to handle and fulfill sticker, label and product packaging projects of all types. Best of all, like the name implies, Lightning Labels provides a quick turnaround to every customers' labeling and product packaging needs. Uses for Lightning Labels' custom product labels and custom stickers include food packaging and organic food labels, wine and beverage labels, bath and body labels, and nutraceutical products, such as vitamins, essentials oils, and herbal remedies, as well as event stickers, adhesive window stickers and more. Lightning Labels strongly supports the development of environmentally friendly printing materials and carries EarthFirst PLA, a new kind of green label material made from corn instead of petroleum. While operating as a high-tech printer, Lighting Labels prides itself on its personalized customer service. Lightning Labels provides one stop shopping for all of your label and product packaging needs. For more information and to place orders online, visit LightningLabels.com. For the latest in packaging news and labeling promotional offers, find Lightning Labels on Facebook, Twitter (@LightningLabels), Pinterest, Google+ and LinkedIn.