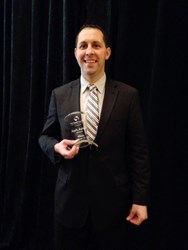 Salt Lake City, UT (PRWEB) February 04, 2014
Progrexion and other Utah business executives were honored for their contributions to their companies during Utah Business magazine's 2014 Sales and Marketers of the Year, or SAMY, awards at a luncheon on Friday, January 24, 2014. Held at the Salt Lake Hilton, Progrexion was also a sponsor of these awards honoring marketing innovation in Utah. Each year, the SAMY awards are presented to several individuals that create unique opportunities within their organizations to increase direct sales and revenue.
Josh Aston, Senior Director of Online Marketing received the coveted SAMY award for his work in growing year-over-year online sales by 90%. Mr. Aston organized employees from different marketing backgrounds into a cohesive team devoted to a single goal – growing the online channel. Mr. Aston ensured that team members specializing in social media, paid search, natural search, and digital media worked as a unified and integrated team to reach this goal.
"The Progrexion Online Team has worked incredibly hard to develop and implement our Integrated Marketing approach," stated Aston. "It is a great honor to receive a SAMY award for those integrated efforts and everyone involved feels honored for their hard work and the awesome recognition from Utah Business."
Progrexion focuses its efforts on improving the financial lives of consumers throughout the nation, and was formed with the goal of providing sophisticated software and other back-end services to credit repair firms. Progrexion has a digital marketing team that oversees the creation and execution of digital marketing strategies.
###
About Progrexion
Progrexion and its affiliated companies and clients, such as Lexington Law and CreditRepair.com, comprise the nation's largest consumer advocacy network and employ over 1,800 people at locations throughout the Wasatch Front, Idaho, and Arizona.