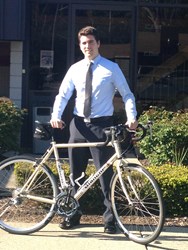 We're definitely seeing some positive steps when it comes to safety, which is such a huge component of a healthy bike culture.
Southfield, MI (PRWEB) February 03, 2014
Sean Murphy is a Bicycle Accident Attorney and avid cyclist in the Metro Detroit area. He works closely with Attorney Jason Waechter, The Motorcycle Lawyer. Murphy wants to spread the word about some changes coming soon for cyclists in Michigan.
"We're definitely seeing some positive steps when it comes to safety," Murphy says. "As cyclists, we count on vehicle drivers to watch out for us and share the road," he continues, " and some of the changes coming to the Metro Detroit area in 2014 could help cyclists be more visible out on the roads."
Among some of the changes scheduled in 2014 for Michigan cyclists is House Bill No. 4866, which Governor Rick Snyder signed into law on January 28. The bill allows cyclists to signal a right turn by extending their right hand and arm horizontally. Prior to this, cyclists were required to signal a right turn by extending their left hand and arm upward, with the arm bent at the elbow. "Now, cyclists have the option to more accurately point in the direction they want to turn," says Murphy. "Hopefully, this will help make their intentions clear to motor vehicle drivers."
Also coming up this year, among other projects, are new bike lanes in Warren and increased bicycle awareness signage and bike racks in "the Grosse Pointes" (Grosse Pointe, Grosse Pointe Farms, Grosse Pointe Park, Grosse Pointe Shores, and Grosse Pointe Woods), according to a December 30, 2013, article from the Detroit Free Press (Freep).
Warren's new bike lanes, which will be over a mile long in both directions, will run north on Van Dyke starting at 8 Mile. MDOT describes a "buffer zone" as a narrow strip of the lane that neither vehicles nor bicycles are permitted to use that keeps bicycle and vehicle traffic apart. "Adding the buffer zone between motor vehicle traffic and cyclists gives the cyclists more usable space on the roadway," says Murphy. "They also help keep the flow of traffic – both vehicles and bicycles – moving." According to the same article, the City of Detroit now has over 150 miles of bike lanes and shared lanes, after adding 80 more miles in 2013.
Of course, safety is always a concern when talking about bicycles and motor vehicles using the same roads. Freep also reports that the Grosse Pointes this year will put up about 75 "Share the Road" signs to encourage motor vehicle drivers to be aware of, and share the road with, cyclists. More bike racks will also be provided outside of businesses in the area. "Safety is such a huge component of a healthy bike culture," says Murphy. "Cyclists need drivers to watch out for them when they're on the roads, and having prominent signs to help remind them is a great step." Murphy also thinks that adding more bike racks will encourage people get out and ride once the weather warms up.
Finally, House Bill No. 4265 could be a game-changer for cyclists and motorcyclists in Michigan. Though it hasn't been approved yet, the Bill proposes to allow people riding bicycles, motorcycles, and three-wheeled vehicles to move through an intersection even if the light is red, as long as specific conditions are met. "It's an interesting idea, but the focus has to be on safety," says Attorney Jason Waechter, who discussed this proposed Bill in his blog on October 16, 2013. "We will certainly be watching to see what happens with this Bill and keeping motorcyclists and cyclists informed."
####
Attorneys Sean Murphy and Jason Waechter are Michigan attorneys specializing in the area of bicycle accident and personal injury litigation. Waechter's firm has collected millions of dollars in settlements, awards and verdicts for his clients over the past 20 years. As well as contributing significantly to safety education and accident prevention. For more information, visit their website at http://www.bicycleaccidentlawyersusa.com