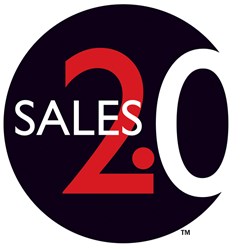 Half of B2B marketers report that they receive no real-time data at all.
Santa Cruz, CA (PRWEB) February 05, 2014
Sales Dot Two, Inc., producer of a leading industry event series for B2B sales managers and executives, is pleased to announce that marketing & sales strategist and bestselling author David Meerman Scott will speak at the Sales 2.0 conference in San Francisco, CA this May.
The Sales 2.0 conference has been hailed by Forbes magazine as one of the top ten conferences entrepreneurs should attend in 2014.
The event, which is centered on the theme "Success in Real Time," will focus on real-time capabilities such as real-time marketing, analytics, social media, pricing, performance feedback, and incentive programs. The goal is for attendees to walk away with effective strategies for closing the real-time technology gap.
According to Scott, "What's happening today for every one of us is all about real time. So many organizations have been in a campaign mode. What they do for their marketing strategies, their sales strategies … is they think about what to do in the future and study the past. The problem with that is that you forget about what's happening right this instant."
A recent study by the CMO Council has reported that only 9% of B2B marketers are getting updated consumer data on a real-time basis, while approximately half report that they receive no real-time data at all.
"The best marketing results no longer come from the best plans and programs; they come from seizing opportunities in real time. Big Data technology allows real time analysis and pattern recognition that leads to faster and better decisions. Online technology shows us what our customers are doing on our websites in real time. David Meerman Scott will deliver a breakthrough keynote outlining insight about real time sales and marketing strategies that will lead to huge rewards," says Gerhard Gschwandtner, host of the Sales 2.0 Conference and founder of Selling Power.
The "Success in Real Time" conference will be held May 5-6, 2014 at the Four Seasons Hotel in San Francisco, CA. Attendees who register early can save $230 on their registration fees.
For more information, visit http://www.sales20conf.com/SF2014/.
About David Meerman Scott
David Meerman Scott is a marketing and sales strategist, best-selling author of eight books (including three international best sellers), advisor to emerging companies, and a professional speaker at the world's top gatherings of business professionals. His groundbreaking ideas don't just slap social media onto dusty old strategies – they reinvent the way business engages the marketplace to stand out, get noticed, spread ideas, win hearts and minds, drive sales, and grow business. Scott is an internationalist, having delivered presentations in over 40 countries on even continents. His book "The New Rules of Marketing & PR," now in its fourth edition and in 26 languages, opened people's eyes to the new realities of marketing and public relations on the Web and is considered a modern business classic.
About the Sales 2.0 Conference
The Sales 2.0 Conference showcases leadership strategies and SaaS technologies that help B2B sales and marketing leaders create more competitive teams and drive higher profits. Attendees learn how to achieve measurable success in such areas as CRM use, sales and marketing collaboration, lead generation and pipeline management, social media for sales and marketing, analytics and metrics management, customer engagement, sales transformation and change leadership, and sales process improvement.