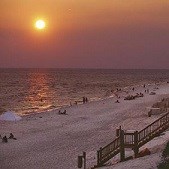 Destin, FL (PRWEB) February 05, 2014
Destin, Florida was ranked third on TripAdvisor's Top 10 Destinations on the Rise. This list is based on the site's user reviews and feedback, ranked according to the greatest increase in positive feedback and interest. With panoramic gulf and harbor views, it's no wonder visitors flock to the Emerald Coast year round. A variety of Destin beach condos are available for overnight accommodations.
Sinfonia Gulf Coast will be hosting Wine, Women, and Shoes during February 7th-9th. The big event features shopping, award-winning dining and toasting along the beaches of the Emerald Coast. Local and regional favorite chefs, exclusive vintners, and designer shoes will be brought together to benefit Sinfonia Gulf Coast and Sinfonia's music education initiatives. The signature event will be on Sunday at the Magnolia Ballroom in The Village of Baytowne Wharf.
The 25th Annual Gumbo Festival will be held February 14th and 15th in Sandestin. Along with great food, the event will feature live music and activities for children. Local restaurants will be competing for the best gumbo, best display, and people's choice awards. Then there will be a chili cook off on February 22nd at the HarborWalk Village. This is the 9th Annual Memorial Cook Off to benefit the American Cancer Society – Relay for Life. The event will be from noon to 4 p.m. Arrangements can be made to stay at Destin condo rentals in the vicinity.
In celebration of Mardi Gras, there will be a pub crawl on February 28th throughout HarborWalk Village and the Destin harbor. From 9-11 p.m., harbor visitors can come dressed up for Mardi Gras and enjoy the nightlife. Then, a "Pardi in Paradise" parade will roll down the harbor on March 1st. The annual holiday parade will feature elaborate floats and costumes, live music, and street performers. This event will be from 2-11 p.m.