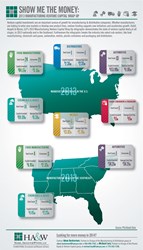 Atlanta, GA (PRWEB) February 04, 2014
Habif, Arogeti & Wynne, LLP(HA&W), the largest Georgia-headquartered tax, accounting and business consulting firm, released today an infographic illustrating the number of venture capital deals that occurred in 2013 for select manufacturing sub-niches.
HA&W's 2013 Manufacturing Venture Capital Wrap Up infographic illustrates the number of venture capital deals at all stages that occurred in food manufacturing, automotive manufacturing, chemicals & gases manufacturing, metals manufacturing, plastic containers and packaging manufacturing and distribution. The infographic shows all manufacturing venture capital deals within the U.S. and is broken down further into deals that occurred within the Southeastern region.
Readers can quickly gauge the areas of manufacturing that most commonly receive venture capital funding and the average value of those deals. This is important information as manufacturers look for funding to continue to grow their business, add new products and processes or increase employee count.
"Understanding which manufacturing companies received venture capital funding in 2013 is crucial to those manufacturers seeking funding in 2014," said Adam Beckerman, partner-in-charge of the manufacturing & distribution group at HA&W. "As they look back at the last year, it's easy to see which areas were strategic from an investor standpoint. This can help companies make better informed decisions about their future."
Interested in where the money went in 2013? Check out the full infographic at http://www.hawcpa.com/industries/manufacturing-distribution.
Looking to make more money and keep more of it in 2014? Contact Adam Beckerman, partner-in-charge of the manufacturing & distribution group, at adam.beckerman(at)hawcpa(dot)com or 404-898-8542.
Thank you to Pitchbook (http://pitchbook.com/) for providing the data.
About Habif, Arogeti & Wynne, LLP:
Today, the pace at which work gets done is faster than ever before, and when companies manage that pace by surrounding themselves with the right people, sustainable success happens. That's why recognizable industry leaders within the manufacturing sector continue to select Habif, Arogeti &Wynne, LLP as their accounting, audit, tax, and consulting firm of choice. Companies looking to increase profitability, streamline processes that improve financial reporting and reduce the time associated with audits, tax planning and compliance choose HA&W. Quicker answers, avoiding unforeseen pitfalls, becoming a better business for the long-run; these are just a few of the benefits clients routinely experience when working with HA&W. Starting up, growing or getting ready to transition? Operating locally, nationally or globally? HA&W gets you where you want to be. Be Successful.
Reach out to HA&W at http://www.hawcpa.com.