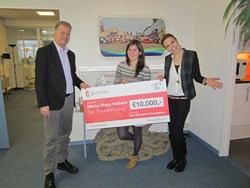 We are extremely grateful to Gramble and their thousands of players for their generosity and excited to be part of such a vibrant community.
The Netherlands (PRWEB) February 04, 2014
The Hague | Gramble, a top mobile application tools provider that allows players to raise money for charities by playing games and using mobile apps, today announced a €10,000 donation to Mercy Ships from the proceeds of app users activity.
Gramble offers a sophisticated toolset to mobile app developers with a twist; giving all users of Grambles tools not only the ability to socialise with other users, but also making it possible to generate donations to their favourite charities on Gramble through in app items that generate revenue for charity. Mercy Ships is one of the most popular charities supported on Gramble, with thousands of supporters. Gramble itself is backed by the operator of the charity-focussed Postcode Lotteries, Novamedia, which is the second largest private charity donor in the world.
Mercy Ships uses hospital ships to deliver free, world-class healthcare services, capacity building and sustainable development to those without access in the developing world. Founded in 1978 by Don and Deyon Stephens, Mercy Ships has worked in more than 70 countries providing services valued at more than $1 billion, impacting more than 2.42 million direct beneficiaries. Each year Mercy Ships has more than 1,600 volunteers from more than 45 nations. Professionals including surgeons, dentists, nurses, health care trainers, teachers, cooks, seamen, engineers and agriculturists donate their time and skills to the effort. Mercy Ships seeks to transform individuals and serve nations one at a time. For more information click on http://www.mercyships.org. The donation of Gramble has made it possible to renovate the hospital onboard the ship "Africa Mercy". After the renovation, Mercy Ships is now able to treat 20% more patients than before.
Commenting on the donation, Gramble's founder and CEO, Adam Palmer said "We are so pleased to be breaking new ground in the mobile app market by providing a meaningful way to support life-changing charities, such as Mercy Ships, and we look forward to raising further funds in 2014. From surgeries to healthcare, to agricultural and educational support, the work that Mercy Ships provides to the world's poorest countries has certainly struck a chord with our community."
Arjen Van Der Wolf, Director of Mercy Ships Holland said: "We are extremely grateful to Gramble and their thousands of players for their generosity and excited to be part of such a vibrant community. Social gaming is new to us and it is kind donations such as these that are vital to ensuring Mercy Ships can continue to help and provide care to those who have little access to surgical and medical help."
About Gramble
Launched in November 2013, Gramble unlocks the true social potential of any app by providing developers with a cutting edge app management platform to control the destiny of their apps. Gramble offers 3 key services via their app management platform: "Core, Connect & Commerce"… all accessible from a single, easy to use, web-based platform.
Gramble offers developers social tools that create a social network within their apps, supported by leaderboards, achievements, instant messaging, analytics dashboards, targeted push notifications, plus a state-of-the-art app market place that is proven to significantly improve engagement, retention and revenues.
Gramble has offices in San Francisco and Holland and is currently funded with $5 million in investment to date, largely from Novamedia, the $7-billion charity-funding powerhouse behind the Postcode Lotteries, in addition to seed investment from Angaros Management and 9 other successful business angels.