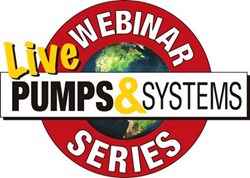 Birmingham, AL (PRWEB) February 04, 2014
Pumps & Systems, the leading magazine for pump users worldwide, is proud to announce the first installment of a four-part free Live Webinar Series, a partnership with the Submersible Wastewater Pump Association (SWPA), the educational leader and authoritative source for the submersible wastewater pump industry for more than three decades.
The first installment will focus on "The Systems Approach to Lift Station Design, Operation, Installation & Maintenance" with a live presentation on March 20, 2014 at 1 p.m. Eastern. Register now at http://www.pump-zone.com/swpa_webinars.
The entire series offers powerful training opportunities with the ability to earn valuable CEU Credits. Presenters include industry experts from CDM Smith, CRANE Pumps & Systems, E-One Sewer Systems, Primex, Flomatic Valves, Sulzer, MPE, Inc., Zoeller, Schneider Electric, Pentair, Flygt (a Xylem brand) and other SWPA members.
Webinar 1 will introduce the concept of the system approach as applied to the design of a small circular wastewater lift station. The tools for proper sizing of simple single pump stations and complex manifolded pumping systems are presented. Experts will walk attendees through an example of a common lift station project, including decisions and calculations for a successful design.
The systems approach is a philosophy that involves the detailed analysis of the need, the development of a specification and the selection of equipment; all designed in a manner so that the components will operate effectively and efficiently in concert with each other.
Presenters for this critical first of four-part series are Flygt Products Application Engineer, Jim Vukich, Pentair Manager of Product Engineering, Barry Jongsma and CDM Smith Associate Ernest C. Sturtz, P.E.
The one-hour event will include a 45-minute presentation followed by a 15-min live question-and-answer segment.
Other topics included in the four-part series include:

Grinder Pumps in Pressure Sewers
Efficiency, Safety & Troubleshooting
VFDs & Remote Monitoring
About The Facilitators
Jim Vukich
Application Engineer
Xylem – Flygt Products
Jim Vukich has more than 14 years of experience in the selection, installation and troubleshooting of submersible pumps and mixers for the transport and treatment of water and wastewater. He has been involved in many areas of pump application and system analysis, including sump design, energy savings through system optimization, motors and VFDs and monitoring and control. Vukich is knowledgeable in centrifugal and axial-flow pumps, mixers and aerators. In his position as application engineer, he works directly with designers and end-users and covers the greater Northeast Region of the U.S. A graduate of the University of Delaware with a Bachelor of Mechanical Engineering degree, Vukich is a member of the Hydraulic Institute and a contributing author for the HI publication "Optimizing Pumping Systems."
Barry Jongsma
Manager of Product Engineering
Pentair
Barry Jongsma is a pump engineer with 25 years of design experience serving the wastewater, flood control, clean water, chemical process, pulp and paper, industrial and fire protection markets. Jongsma is the current president of the Submersible Wastewater Pump Association and serves on the Board of Directors and Education Committee. In past years, Jongsma has been active with SWPA as vice president and marketing committee chairman.
Ernest C. Sturtz, P.E., BCEE
Associate
CDM Smith
Recognized as a national expert, Ernie Sturtz is a civil engineer (registered in Florida and Georgia) specializing in the hydraulics and application of pumping equipment for engineering projects. With more than 30 years of experience in the design, implementation and troubleshooting of water and wastewater pumping station projects, he has led the design of many major pumping systems, including such complex and unique facilities as the 200 MGD Influent Pumping Station at the Sugar Creek WWTP for Charlotte Mecklenburg Utilities (Charlotte, N.C.). Sturtz is a graduate of Florida International University and is currently serving on the Hydraulic Institute's Vibration, Pump Piping and Pump Application Guidelines Committees. As a senior technical advisor in the field of pumps and hydraulics, and as CDM Smith's internal leader for pumping facilities, he conducts quality assurance reviews for many pumping station designs produced worldwide by CDM, such as Singapore's 5,500-mgd Marina Barrage Pumping facility.
About Pumps & Systems magazine:
Pumps & Systems is the voice of the pump and rotating equipment industry. As the leading magazine for pump users worldwide for 20 years, it delivers relevant industry news coverage and powerful technical information to more than 40,000 BPA-qualified managers, engineers, operators and maintenance professionals. Pumps & Systems is published monthly and is the only North American trade publication that covers pumps and related operations in every issue. Pumps & Systems is supported digitally with the No. 1 pump industry website, http://www.pump-zone.com. The magazine also delivers timely information and pump industry news through its monthly e-newsletters—Pump Industry Insider, Pump Users Digest and Products for Pump Users.
About SWPA
The Submersible Wastewater Pump Association (SWPA) is a national trade association representing and serving the manufacturers of submersible pumps for municipal and industrial wastewater applications. Founded in 1976, the association's primary focus is on industry guidelines, education and promotion.