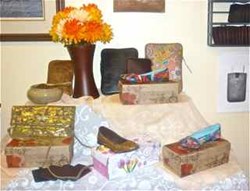 Just received my IPAD case and love it! Someone had written about your products and how the inside is designed. I went straight to your site and ordered. Also, the floral design is very pretty and unique.I won't hesitate to reorder in the future!
Denver, Colorado (PRWEB) February 04, 2014
CoFi Brand
The CoFi brand represents high quality, stylish premium leather products. Developed from C & C Leathers, a family-run company, which is headquartered in Denver, Colorado, the name CoFi is a combination of "Colson" & "Finnegan" (the founder's grandsons). The founder of CoFi, Clive Wang, has been in the leather business for over 40 years. He has always believed that extremely high-quality fashion leather products should be available at an affordable price. Sharing his extensive knowledge about the leather industry with his daughter Stephanie has become one of his greatest passions.
CoFi's Newest Premium Leather Line
C & C Leathers will debut CoFi's fashion leather clutches, ballerina flats, and belts at the Denver Gift, Home, Jewelry, and Resort Show from February 19th-24th, 2014 at the Denver Merchandise Mart in Showroom 1320.
The CoFi Clutches, which have hidden magnetic snaps, convert to cross-body handbags, allowing a woman to transition from day to evening using the same purse. The ballerina flats are chic, comfortable, and meticulously made. The CoFi Belts have been developed in traditional and skinny widths. The entire line is available in a variety of fashion leather styles: floral, camouflage, leopard, stingray, pebbled brown, metallic gold overlay on leopard print, and metallic silver swirl with a black background.
CoFi's Classic & Western Line of Tablet/eBook Cases
CoFi's classic and western themed premium leather tablet/ebook cases will be available for order at the February Gift Show at the Denver Merchandise Mart in Showroom 1320. Classic CoFi Cases are lined with a protective shearling fabric and are available in a variety of styles: Spring Flower, Tan Vintage, Red Vintage, Silver Croco Print to name a few. CoFi's unique genuine leather Western Cases are adorned with fringe, rhinestones, nailheads, embroidered stitching, and other details.
CoFi Cases are available in two sizes to accommodate your iPad (including the new iPad Air), Kindle Fire (including the new Kindle Fire HDX series), Nook, Nexus 7, iPad Mini and more.
CoFi's Charity
CoFi donates 10% of all online proceeds to the Fetal Health Foundation, a local Colorado organization that provides financial and emotional support for families diagnosed with Fetal Health Syndromes.
To learn more about C & C Leathers, the CoFi Brand, and CoFi's Charity, visit: http://www.coficase.com or http://www.facebook.com/CoFiCase. We hope to see you at the C & C Leathers - CoFi Showroom 1320 during the Denver Gift Show in February. To make an appointment, please contact Stephanie McTigue at stephaniemctigue(at)yahoo(dot)com