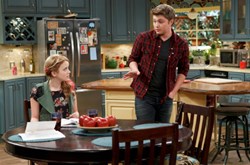 "Everybody on the show is capable of making me laugh."
(PRWEB) February 03, 2014
Actor Sterling Knight recently chatted with reporters on a conference call, including TVRage.com's Senior Writer Anthony Marcusa, about his recurring role on ABC Family's comedy 'Melissa & Joey.' Not only did he discuss working alongside Melissa Joan Hart and Joey Lawrence, but he also opened up about acting in front of an audience.
Here's an excerpt from the conference all:
"Joining a TV show in the middle of a successful run, where one's character is trying to fit in with those who already mesh together and are established to the audience, seems hard enough as it is. Working alongside actors who you grew up watching and adoring would seem to make it just a bit harder."
Sterling Knight, the 24-year-old actor and musician, found himself in just that situation as he enlisted on ABC Family's 'Melissa & Joey.' The comedy's two leads are familiar faces to many (at least to those growing up in the '80s and '90s), as Melissa Joan Hart and Joey Lawrence, are two actors who've some very notable and influential characters to their credit.
"I never really get star stuck or nervous or anything like that, but I grew up on 'Clarissa Explains It All' and 'Sabrina, the Teenage Witch' and 'Drive Me Crazy,' and Joey's stuff too," Knight told TVRage directly in a conference call Thursday. "I watched 'Brotherly Love' religiously, and his shows with [brothers] Matt and Andy. I was actually nervous to be on set. I grew up watching these guys."
'Melissa & Joey' airs Wednesdays at 8/7c on ABC Family.