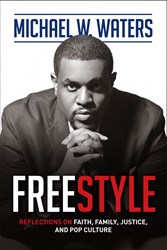 "In hip-hop culture, FREESTYLE occurs when a rapper or MC performs spontaneous, unrehearsed lyrics akin to the improvisation of jazz artists during a live performance." – Michael W. Waters
Nashville, TN (PRWEB) February 04, 2014
Urban pastor Michael W. Waters is confronting urban issues in his provocative and prophetic new book, Freestyle: Reflections on Faith, Family, Justice, and Pop Culture. Releasing in February 2014, Waters is speaking about topics that many only whisper about. Freestyle boldly confronts issues within the urban community such as addiction, education, incarceration, family issues, and absentee fathers.
Waters grew up as a part of the hip-hop generation. As a boy he witnessed violence, paternal absenteeism, and the drug culture that still plagues urban communities today. These experiences collided with his faith while he was still young and Waters chose a life in ministry. Waters says that he "views life through the lens of Christian hope" and purposes to see that hope manifest in the urban community.
His path continues along a fine edge as he molds together uncomfortable topics that infuse his cultural youth, his growing faith, and the often unexpected ways God has worked within his world.
Sample chapters include:
-Glory: A New Day for Family and Fatherhood in Hip-Hop Culture
-The Liturgy of Trayvon Martin
-With Deepest Regret: A Letter to the Ancestors
-An Odd Future for Faith in Hip-Hop
-Pepper Spray Hospitality
Waters isn't afraid of tackling controversial topics that challenge Christian perspective, push tough urban boundaries and race-related issues, or touch upon tender family relationships. Each chapter displays his primal and empowering understanding of the topic. Then Waters adds wit, candor, and attempts to manifest a new brand of hope.
In FREESTYLE, Waters longs for readers to become a part of the solution. His inspirational and compassionate words channel his passion for change in a stirring language that the modern urban community can understand.
###
About the Author
Michael W. Waters, sought after pastor and thought-provoking lecturer, has been featured in Ebony magazine and has been published in respected publications like The Huffington Post, The African American Pulpit, and Feasting on the Gospels. In addition to a Doctor of Ministry degree from Southern Methodist University, Waters is currently a Ph.D. student in Leadership Studies at Dallas Baptist University. He is married to Atty. Yulise Reaves Waters. They are the parents of three children.
About the Publisher
Located in Nashville, Tennessee, Fresh Air Books is a publishing imprint of The Upper Room, a global ministry dedicated to supporting the spiritual formation of Christians seeking to know and experience God more fully.