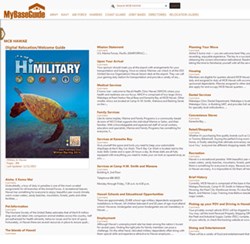 The new site is faster, has a refined look and feel, and is easier to navigate. We have learned from focus groups and subsequently developed around the needs of our military... - says IT Director Forrest Smith
San Diego, CA (PRWEB) February 04, 2014
MARCOA Publishing announces launch of improved MyBaseGuide.com website.
MARCOA Publishing, Inc., the nation's leader in publication of military installation guides, telephone directories and maps for nearly 50 years, today launched its robust revision of MyBaseGuide.com. The newly designed, user-friendly website reinforces MARCOA's long-standing support of the U.S. military by adding new tools and easier access to installation information and services for members of the armed forces and their families.
"The new site is faster, has a refined look and feel, and is easier to navigate. We have learned from focus groups and subsequently developed around the needs of our military, their families and the veterans who use these resources to connect with installation services across the United States," said IT Director Forrest Smith.
MyBaseGuide.com supplements MARCOA's publications, which are distributed by most U.S. military commands to incoming personnel and their families up to six weeks prior to their arrival at an installation. The guides, maps and telephone directories help newcomers acquaint themselves and their families with the installation's facilities, services, schools, housing and recreational opportunities, including hours of operation and local contact information. Additionally, information about the surrounding local area in each guide, such as employment options for spouses, helps make the PCS less stressful.
MyBaseGuide.com, as well as our mobile App, allow real-time updates in the new version, ensuring accurate information is always available to service members and their families. MARCOA is a publisher that takes great pride in its reputation not only among military customers, but with the advertisers and sponsors that support each installation as well.
"I am very pleased with the response we have seen to date in such a short period of time," President Matt Benedict said. "The MyBaseGuide website, mobile app and printed guides all work in unison to provide the most up-to-date information about each installation as well as the local area businesses that support the military."
About MARCOA Publishing
MARCOA proudly serves more than 75 percent of domestic U.S. military installations as one of the largest and longest-established publishers of military installation guides, telephone directories and maps. Having been under the same continuous leadership since its founding in 1966, MARCOA enjoys a stability that has forged a strong bond with all the military services for more than four decades. Many employees are former active-duty military, and the national sales force includes numerous former military personnel. MARCOA's reputation for integrity and the highest ethical standards is well-known throughout the United States military community.
National and local advertisers seeking to promote their business and services to the military community through MARCOA publications and digital products are encouraged to contact us through the new website. There are many affordable marketing packages available to meet your needs.
Contact Information
MARCOA Publishing, Inc.
http://www.marcoa.com - Corporate
http://www.mybaseguide.com
http://www.mybaseguide.com/mbgapp/ - Mobile App
(800) 854-2935
Email: pr(at)marcoa(dot)com