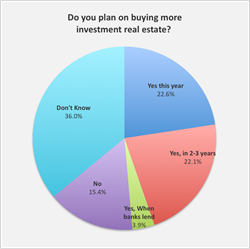 2013 proved to be a stable and profitable year for corporate housing landlords.
Denver, CO (PRWEB) February 04, 2014
Furnished housing landlords say they are optimistic about their future profitability, reports the fifth annual By Owner Corporate Housing survey sponsored by CorporateHousingbyOwner.com (CHBO), an online marketplace dedicated to connecting individual property owners offering short-term furnished and unfurnished rentals with potential tenants worldwide. The purpose of the survey is to provide key insights into the do-it-yourself – or "by owner" – corporate housing marketplace.
The survey found that nearly 91% of corporate rental landlords say they don't loose money with their rentals and 36% believe 2014 will be a "more profitable year." Plus, 45% say "Yes, I plan on buying more real estate." This is the 4th year in a row for an increase in real estate investors.
Additionally, the survey reports that do-it-yourself (DIY) property management is on the decline. After years of property owners watching every penny and doing all the work themselves, now with the increase in rental profits, these landlords are turning their properties back to the professional property managers. In fact, 72% of the survey respondents say they do their own property management rather than using outside resources, a decline of 14% from the 86% all time high in 2011.
Kimberly Smith, the co-founder of Corporate Housing by Owner, Inc., says corporate housing landlording is nothing new, but obviously an increasingly popular option these days for the savvy real estate investor. "My hope is that this report will continue to help 'by owner' corporate housing landlords become more educated, knowledgeable and profitable as it allows them to deep-dive into emerging rental trends and understand how such trends will impact them personally," says Smith.
Other key findings from the survey include:
Rental rates rising. A sign of the rebounding economy, landlords of short-term rentals say they did raise their rental rates in 2013. Approximately 33% of respondents say they offered increased rates over 2012, while only approximately 8% say they lowered them.
Corporate housing has gone to the 'burbs'. Counterintuitive to previous corporate housing trends where properties were located in "city centers," according to the majority of private corporate rentals who responded to this survey, "by owner" corporate rentals tend to be located in suburban areas on residential streets (42%), followed by central urban areas (25%) and then outer urban areas (23%).
You've Got Pets. Many long-term business travelers are arriving with pets in tow. 43% percent of survey respondents say they accept some type of pet in their corporate rental. Why? Of those who accept pets, about 67% say they take pets because it "gets their properties rented."
To download a free copy of the 2013 By Owner Corporate Housing Report, please visit CHBO. Visit http://www.Amazon.com to purchase the report in book format.
About Corporate Housing by Owner (CHBO)
CHBO was founded in 2006 out of a need to connect private homeowners and real estate investors offering furnished, short-term rentals with corporate housing seekers such as traveling executives, relocated professionals, traveling nurses, actors, athletes and more. The company provides individual homeowners and investors resources and guidance to help them strategically manage their corporate housing rental properties as well as exposes their properties to thousands of potential tenants worldwide who are seeking short-term housing options. Please visit Corporate Housing by Owner or call 1-877-333-2426 for more information.