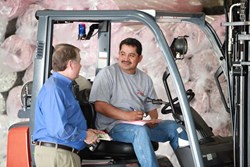 "The Marketplace Chaplains have been such a strength and an advantage to our company," said Jamie Whyte, Executive VP Intrepid Potash, Denver, Colorado.
Plano, Texas (PRWEB) February 05, 2014
Trend of Workplace Chaplains Crosses Super Bowl Sidelines to Corporate Workplaces
When the Denver Broncos and the Seattle Seahawks charged onto the hard and frozen football field at the MetLife Stadium in East Rutherford, New Jersey, during Sunday's Super Bowl XLVIII, two of the most important team members were also two of the most unknown.
Both the AFC Champion Broncos and the NFC victors Seahawks employ team chaplains, Karl Payne for the Seahawks and Chip Simmons for the Broncos, both employed to help team members and their families through the hopes and hurts of life, much like the hundreds of companies nationwide that use Marketplace Chaplains to help their employees.
"When I go through the locker room, I don't talk to the players who come to the (team) Bible study, I talk to the ones who don't go so they know they are loved," Simmons said of his Broncos congregation.
That's exactly what Marketplace Chaplains do at the Intrepid Potash corporate headquarters in Denver, Colorado, less than a couple of long Peyton Manning touchdown passes from the Broncos stadium. "The Marketplace Chaplains have been such strength and an advantage to our company," said Jamie Whyte, Executive Vice President for Human Resources and Risk Management. "We are very fortunate to have them."
The trend of having chaplains for NFL teams, like last week's Super Bowl, for U.S. Congressmen and women, along with hundreds of corporate workplaces is a steady and growing one.
A Bloomberg Magazine story titled, "God is my Quarterback," 1 said that nearly all 32 NFL teams employ team chaplains to help with their player's needs, many of them young and newly rich, but with all the problems that new millions can bring.
"No matter if a man or woman wears a $500 suit, drives a new car, or makes minimum wage on the assembly line, they still have needs in their lives and they still take them to work every day," said Marketplace Chaplains Chairman and CEO Gil A. Stricklin.
"It's important that chaplains prayerfully minister to athletes. It's very relational and very much of a mission work," said Payne, who works out of the Seahawks training facility only a few miles from Marketplace Chaplains' client company Apex Moving & Storage company. "I enjoy being part of a congregation of 130 talented athletes," added Payne.
Several companies in the Denver area use Marketplace Chaplains to help their employees from a wide variety of occupations, some of which include Potash mining, chicken processing plants and automobile dealerships.
Marketplace Chaplains help employees and their family members in a confidential, voluntary, non-denominational way. A recent Time Magazine article titled, "The NFL Chaplains Give Advice," details how team chaplains offer encouragement and support to players, just as Marketplace Chaplains give advice, care and compassion to thousands of men and women in today's stressful workforce.
"What these Super Bowl NFL teams have found is the same as what company CEOs all across America have learned, having a trained, caring, compassionate chaplain. It is the best way to take care of your most important business asset, your employees and their family members," said Richard S. De Witt, Executive President and COO of Marketplace Chaplains.
Marketplace Chaplains, America's largest and original workplace chaplaincy organization, provides ethnically diverse male and female chaplains to care for employees on a regular basis in companies all over America, in 4 foreign countries and the commonwealth of Puerto Rico. Currently, more than 2,800 Marketplace Chaplains serve in 3,104 locations, 44 states, 962 U.S. cities, and 23 international cities, providing care, support and encouragement to over 550,000 employees and their family members.
For more information on this employee benefit which has been featured with Marketplace Chaplains on CNN, NBC Nightly News, and in the Washington Post, the New York Times and Bloomberg BusinessWeek, visit http://www.mchapusa.com.
To arrange an interview with a Marketplace Chaplain contact Art Stricklin, Vice President Public Relations, at artstricklin(at)mchapusa(dot)com or call 1-800-775-7657.
References:
1 http://www.bloomberg.com/apps/news?pid=newsarchive&sid=aBmsBk5mJuXE
2 http://content.time.com/time/arts/article/0,8599,1933406-2,00.html