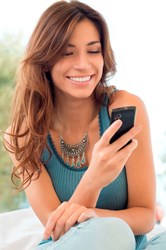 Jefferson City, MO (PRWEB) February 03, 2014
Because of new information from Pew Research, Front Page Digital sees text marketing as a great way for businesses to reach customers and build loyalty. They offer tips on the best ways to use this style of marketing.
According to Pew Research, 91 percent of adults own a cell phone, and 63 percent of those owners use their phones to go online. In addition, 72 percent of adults with cell phones send and receive text messages. To learn more, visit http://www.pewresearch.org/data-trend/media-and-technology/device-ownership/.
These habits create a valuable opportunity for businesses. With so many adults nearly always attached to their cell phones, text marketing is a great way for businesses to reach their consumers.
Front Page Digital Marketing Consultant Jessica Caran said, "I'm glued to my cell phone. I definitely check it more frequently than anything else – what can I say? I don't sit at a desk all day, so my phone is my calendar, email, to-do list and file storage. Sometimes I even make phone calls on it, but I'm always checking my texts and emails."
Text message marketing is a great way to reach customers while they are out and about. Front Page Digital suggests restaurants send messages around 11:30 a.m. or 4:30 p.m. to get clients in the door for lunch or dinner. For shops, sending messages on Thursday or Friday is a good way to encourage weekend shopping.
Front Page Digital also advises making messages timely and having a mobile site ready in case a customer wants to click through or visit the business' website after being prompted. Front Page Digital offers text message marketing as well as HTML5 responsive websites and mobile sites. For more information, visit their website at http://www.frontpagedigital.net/.
About the company:
The Jefferson City News Tribune was founded in 1865, and has been the advertising source that central Missouri businesses turn to when marketing their products or services. Today, News Tribune is much more than a newspaper. With the addition of Front Page Digital, Central Missouri Newspapers now hosts a complete suite of integrated media products that connect businesses to the targeted consumers they need to grow their brand successfully and to drive revenue.
Each month, News Tribune, Front Page Digital and its affiliated websites receive 1.4 million page views, according to Google Analytics. Now, with the addition of Front Page Digital, their proven strategy for reaching influential, local consumers will expand businesses in ways owners never thought possible.