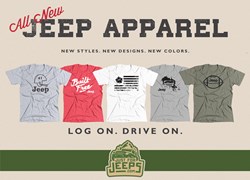 "We're pretty excited about all of the new shirts," said Troy DiMauro, Marketing Director at JustForJeeps.com. "We've gotten some solid feedback and are ecstatic to officially launch them on our site."
Norwood, MA (PRWEB) February 04, 2014
JustForJeeps.com proudly unveils its latest line of Jeep t-shirts and Jeep apparel. Jeepers will love these custom designs they can't find anywhere else.
Designed and created at JustForJeeps headquarters in Massachusetts, this new line of t-shirts touches on the heart of what it means to be a Jeep fanatic. With a wide range of colors from typical military olive to bright orange and a plethora of new designs, there's a Jeep t-shirt for everyone.
JustForJeeps.com is also rolling out a series of football-themed Jeep designs in time for the big game on February 2.
"We're pretty excited about all of the new shirts," said Troy DiMauro, Marketing Director at JustForJeeps.com. "We've gotten some pretty solid feedback so far and are ecstatic to officially launch them on our site."
To view all of the new apparel, visit http://www.justforjeeps.com/jeeptshirts.html.
JustForJeeps.com is also offering a free off-road calendar (a $20 value) with all purchases over $150. The calendar features some stunning shots of some of the coolest off-road Jeeps doing what they do best. Additionally, the online Jeep store is offering free UPS ground shipping on all orders over $99.
For more information on the aforementioned offers, becoming a JustForJeeps VIP member or to simply browse the inventory of authentic Jeep parts and accessories from Mopar, please visit http://www.justforjeeps.com today.
About Just For Jeeps
Launched in December 2004, JustForJeeps.com is a division of Central Chrysler Jeep located in Norwood, MA. Being in business for over 65 years, Central Chrysler Jeep Dodge is dedicated to the customer's highest level of satisfaction. We are a Five Star dealership which is the highest award achieved by a Chrysler Jeep Dodge Dealership. It is an ongoing commitment to continuously improve our dealership. We have worked very hard to obtain this elite award.