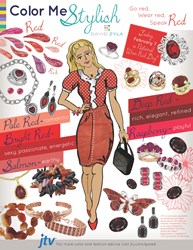 Don't be afraid of the color red.
Knoxville, Tenn. (PRWEB) February 06, 2014
Power. Influence. Passion. Wearing this fiery hue can be intimidating for many women, but when worn properly can ignite confidence and send a heartfelt message. Friday, February 7th is National Wear Red Day®, and Jewelry Television® is encouraging the public to wear red to show support for women with heart disease.
"Heart disease is still the number one killer of women age 20 and over, killing approximately one woman every minute," explained Jill Johnson, VP of marketing for JTV. "Our network is participating in National Wear Red Day® as part of JTV's month-long Love Your Heart campaign to benefit the American Heart Association's Go Red For Women® movement."
Emmy® award-winning stylist and JTV color expert, David Zyla, offers these tips on how to wear the power color with confidence:

Find your version of red by gently pinching a fingertip or notice the color of when you blush.
Keep your outfit simple and make a power statement with jewelry from the 'Love Your Heart' collection by JTV.
If warm colors such as brown, yellow, and fall hues are flattering on you, consider wearing an orange-based red.
If you gravitate toward cool colors such as royal blue, purple, and jewel tones, consider wearing a blue-red
Dress in neutral colors and 'pop your look' with a splash of red like a handbag or scarf.
Don't mix and match varying shades of red apparel or accessories.
"Above all, don't be afraid of the color red," says Zyla. "Go Red® month is the perfect time to experiment with red in your wardrobe while taking a stand against heart disease."
For more style advice on wearing red from David Zyla, visit JTV.com/GoRed.
Please Note: JTV is a proud supporter of the American Heart Association's Go Red For Women® movement. This is no way implies an endorsement from the American Heart Association in regard to JTV's products or services.
About Jewelry Television®
Jewelry Television® (JTV) is one of the largest multichannel retailers of jewelry and gemstones in the U.S. The privately-held shopping network broadcasts high definition programming, 24 hours a day, seven days a week, to more than 80 million households.
###