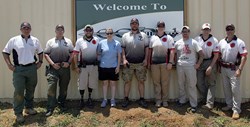 We're honored to be a part of this event and support such a great cause that serves those who've dedicated their lives protecting freedom. - Bryan Froning, Director of Sales
Odessa, FL (PRWEB) February 06, 2014
This year's 3-Gun Championship, with match sponsor Adams Arms, is on March 28th-30th and will be located in Blakely, Georgia at the Legion Operator Training Group. The facility features many multipurpose bays, ranges and other complexes that are used for law enforcement and military training. This unique training facility, gives the ability to create difficult and interesting courses of fire that will challenge the skills of the 3 gun competitors.
Revered by many in the 3 gunner community as their favorite match of 2013, the match has a reputation for taking shooters out of their comfort zones. The stages in the competition are created by special forces veterans to ensure a technical and challenging arena in which to showcase a shooter's true ability.
The competition will test the skill and ability of shooters in 9 stages that vary across buildings, structures, natural terrain, and woods. Each stage will be scored by straight time plus penalties; you can view a brief of each stage at http://www.tfd3g.com. The fee to participate in the match is $300 before March 1st, after this date the fee will be $325. Juniors (under 18) and active duty military are eligible to receive the special rate of $250.
The match helps drive awareness and funds to the Task Force Dagger Foundation that is dedicated to helping United States Army Special Operations Command (USASOC) soldiers and their family who have been wounded, ill or injured in the line of duty. They offer recreational therapy activities that help re-engage the veteran and their family with everyday life. 95% of all donations go directly towards assisting the wounded ill or injured USASOC soldiers and their families. "We're honored to be a part of this event and support such a great cause that serves those who've dedicated their lives protecting Freedom," says match sponsor Adams Arms' Bryan Froning, Director of Sales.
Known for making cutting edge technology for the modern day shooter, Adams Arms is a leading firearm and parts manufacturer. They are dedicated to developing products, like the Adams Arms piston driven system and the patented retrofit kit for the AR 15, to improve performance and keep costs down for shooters. All products made by Adams Arms are made in the USA and come with a Life-Time Warranty. For more information visit http://www.adamsarms.net.