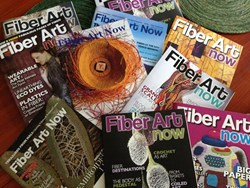 In just two years, Fiber Art Now magazine has garnered an online community of almost 50,000, and is being sold on over 600 newsstands in the US, Canada, and the UK. New plans include expanding resources for related businesses, readers, and partners.
Boston, Massachusetts (PRWEB) February 04, 2014
In the first two years of publication, Fiber Art Now, a quarterly print and digital magazine, has garnered an online community of almost 50,000 members, is being sold on over 400 newsstands in the US, over 200 in Canada, and select locations in the UK, and is now working to become a hub of resources for the myriad small businesses who have partnered with them.
Since the release of the first issue in October, 2011, the mission of Fiber Art Now has been to connect and inspire the contemporary fiber arts and textiles community by featuring the most compelling work, ideas, and craftsmanship in all of its endeavors. Fiber Art Now serves artists, arts professionals, learners, educators, collectors, and related organizations, and is a supportive, worldwide community. Readers are encouraged to browse complimentary articles.
While that mission continues today, Fiber Art Now plans to expand its a resources for small businesses. According to Marcia Young, Fiber Art Now publisher and editor in chief, "Since the beginning, we have worked to help our advertisers grow their business by continuously spreading the word about their products and services, during and between quarterly issue releases. That group includes museums, galleries, artists, art supply companies, art schools, artists, and other constituent groups that regularly run workshops and courses related to the arts, and various organizations that are attempting to connect with our readership."
All of our constituent groups need support not only from a business and marketing standpoint, but every one of them has a regular budget for shipping and mailing, including companies shipping products to customers, artists shipping work to exhibits and craft fairs, gallery owners and directors shipping artwork, and more. Recent acceptance to the Federal Express Small Business Grant Competition gives Fiber Art Now the possibility of helping more businesses establish safe, efficient delivery of their products and work. #FedEx #SmallBusinessGrant
According to Young, "We are fortunate to have a passionate, engaged community, and they are responsible for all of the votes we have received so far. We hope to become one of the finalists in this competition. If Fiber Art Now wins the Federal Expres Small Business Grant Competition, we'll be able to serve even more of the community."
Fiber Art Now began as a grassroots magazine, fueled by the enthusiasm of the fiber arts and textiles community. It has grown from a small print-only publication to a 64-page, full color magazine, in print and digital formats. Future plans include an expanded web presence that serves as a resource for its partner organizations and readership, and plans to create video content that further engages the current and potential audience, acting as a conduit for learning the roots and future of the fiber arts and textiles community, specifically as it relates to the American Craft Movement.
Readers are encouraged to download the complimentary article here and connect with Fiber Art Now social media outlets.
http://www.facebook.com/fiberartnow
http://www.twitter.com/fiberartnow
http://www.pinterest.com/fiberartnowmag
#FedEx #SmallBusinessGrant