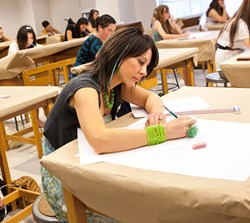 Los Angeles, CA (PRWEB) February 04, 2014
Fashion lovers who have been curious about what it's like to attend the fashion college FIDM now have an invaluable opportunity to experience a class and be a student for a day. Intro to FIDM Classes are topical industry classes taught by FIDM Instructors and Staff. In classes such as Fashion Sketching, students learn hands-on sketching techniques and meet and network with fellow students.
The next Intro to FIDM Class is Line Development on February 22, 2014, from 10:00 a.m. to 1:00 p.m. at the Los Angeles campus, which is located in the heart of Downtown's Fashion and Entertainment Districts.
Attendees will receive an introduction on how a fashion apparel line is developed and learn how to choose the colors, fabrics, and silhouettes around a defined theme. The class is $25 and an RSVP is required.
Whether attendees are considering applying to FIDM in the future, transferring, or going back to school, an Intro to FIDM Class can be a helpful first step and a fun way to spend the day. There is always something happening at FIDM, whether it's an Intro to FIDM Class, Saturday Classes & Workshops, or the Financial Aid Strategies Workshop.
FIDM/Fashion Institute of Design & Merchandising is a co-educational, specialized, private college dedicated to educating students for the Fashion, Graphics, Interior Design, and Entertainment industries. Known as a one of the top fashion design schools, FIDM is also a leading graphic design school and digital media college. Visit fidm.edu for more information.