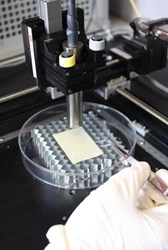 "Lumetrics' optical inspection system is revolutionizing tissue measurement," says Lumetrics, Inc. VP of Sales, Steve Kelly.
Rochester, New York (PRWEB) February 05, 2014
Even though tissue from animals is often used to manufacture artificial heart valves and other medical organs for the human body, manufacturers often rely on antiquated methods to inspect such tissue. The thickness of this tissue is critical to how these organs function, yet, too often, manufacturers use crude mechanical gauges to measure it.
Lumetrics, expanding on research conducted for the National Science Foundation, has discovered a new method that uses light for measuring tissue – a method that results in unprecedented precision. Such precision is critical to developing safer and longer-lasting transplants and organ replacements. Furthermore, the ability to measure so precisely – to within a fraction of a micron – makes for more predictable results. In short, these new methods provide more hope for the patient undergoing critical medical procedures.
Measuring pericardial and other collagenous tissue has always been a challenge for those in the medical device field. However, Lumetrics is leading the way in mapping three-dimensional thicknesses. With the data derived from a non-contact, non-destructive interferometer scanning system, manufacturers can improve inspection time, dramatically reduce costs, and ultimately improve customer safety. This is particularly important for the Food and Drug Administration which holds strict compliance guidelines on all medical products to validate their safety for use in humans.
Lumetrics' core technology was developed while working with the NSF on a measurement system for the human eye. This system, the Clinical Axial Metrology System (CAMS), was used to measure the components of the eye and investigate treatments for various eye diseases. As research progressed on CAMS, Lumetrics engineers asked where else they might use this technology, and one application was the measurement of tissue samples.
CAMS is more accurate than the outmoded system of touch-gauge measuring; a manual, labor-intensive, subjective system, that only uses a few measurement points, and is inherently subject to error. Instead, with the automatic, non-contact, objective measurement of CAMS, the irregular surface of the tissue sample can be mapped in hundreds of locations without operator involvement.
The tissue can be measured in a saline solution to maintain hydration and consistency, or out of solution, to measure the relationship between dehydration rate and thickness for research purposes. Lumetrics is currently working with customers to implement this technology in their Production, Quality, and Research & Development organizations. Further information describing some of the core research is available by contacting Lumetrics.
About Lumetrics
Lumetrics is known worldwide for its proven non-contact measurement system, OptiGauge™. For more than a decade, Lumetrics® has been providing installations of its OptiGauge™ thickness-measurement system to hundreds of companies throughout the world. The OptiGauge is used in six of the top 11 medical device manufacturers, the top four ophthalmics companies, and the largest glass manufacturers in the world.
With the recent addition of products acquired from Abbott Medical Optics, Lumetrics provides wavefront analysis of Intraocular and contact lenses, and laser beams in industry, government and independent research labs. Lumetrics' systems are deployed in quality and research and development labs, and production floors. These systems provide real-time measurements to improve quality, reduce costs, and increase yields. To find out what Lumetrics, Inc. can do for you, visit http://www.Lumetrics.com.