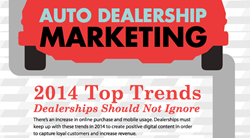 These resources teach auto dealers everything they need to know about marketing to customers in the digital age.
(PRWEB) February 04, 2014
Boston digital marketing agency, Pepper Gang, has built a series of online resources to help educate automotive dealerships on how best to reach a wider audience and bring in more buyers.
The resources include:

A survey report, detailing survey questions and answers
A white paper, which breaks down the survey results and outlines what those results mean for auto dealerships
An infographic, with key takeaways illustrated in clear, concise visuals
Blog articles on the role of digital media in auto marketing
To create the materials, Pepper Gang conducted first party research, surveying people online and in person to examine what factors affect a person's decisions when researching and buying a new or used car. Participants' answers revealed how they research a car purchase, and what dealers can do to influence people as they decide which dealership they will buy from.
"These days, car shoppers gather most of their information about what car to buy, and where to buy it, online—and they're not just researching which car to buy, but which dealership to buy it from," said Stefanie Daneau, co-founder of Pepper Gang. "Auto dealers that know what shoppers look for can understand how to target new buyers and retain past customers."
Daneau said the resource series teaches auto dealers how to market to consumers who are constantly online, in a way that will work for each individual dealer.
"We have distilled the findings from our survey into three different formats so that anyone can take advantage of what we found. The report is great for people who need a very fact-based approach. The white paper walks dealers through a digital marketing plan they can easily put into place on their own or with a marketing team, the infographic breaks down the findings for more visually-oriented managers, and the blog articles discuss, in depth, different aspects of marketing for automotive dealers."
She added that Pepper Gang will continue to add articles to the blog as new trends in digital media emerge.
Auto dealers and dealership marketing managers can access the materials through the Pepper Gang website:
The survey report: Auto Marketing: Role of Digital Media in Automotive Purchase
The white paper: Dealership Marketing: Building Revenue—The Essential Guide to Online Presence
The infographic: Auto Dealership Marketing: 2014 Top Trends Dealerships Should Not Ignore
The blog articles, collected under the category, "Auto Marketing"
About Pepper Gang
Pepper Gang is a Boston digital marketing agency that provides customized, strategic digital media solutions to the automotive industry. By emphasizing a focus on local, mobile consumers, Pepper Gang helps Boston auto dealerships reach their full potential.