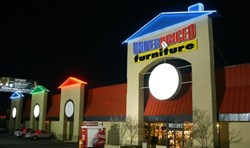 "I've been a designer for 17 years in the Gwinnett area and Underpriced Furniture has always been at the top of my list for quality furniture at affordable prices for my clients." -Pam
Atlanta, GA (PRWEB) February 07, 2014
In the category of "Home is where the heart is" the Best Furniture Store in Gwinnett honor was awarded to Underpriced Furniture. Underpriced Furniture is proud to take the crown! They are pleased that the people of Gwinnett have recognized them as the best at what they strive to do best!
At Underpriced Furniture, they make it their mission to provide the quality furniture that you expect, have a fun atmosphere to shop, work with the most courteous staff, and above all else save their customer's money. With this honor they understand the impact of word of mouth advertising and recommendations of their shoppers to co-workers, friends and family members about the furniture purchase experience at Underpriced Furniture.
Once someone has found the perfect home to plant their feet, whether it is in a modern loft, apartment, townhome or single family home, Underpriced Furniture has something for everyone. Whether you are a designer or want a designer look that is already put together with a big red bow, Underpriced Furniture is the place to shop! With a vast variety of bedroom, dining room, living room and furniture accessories, it's sure to be at the top of the list for a favorite one-stop shopping destinations for the home.
What makes Underpriced Furniture stand out above the rest? We asked some of their customers on the sales floor and here are some of the responses we received.
"It's just such a fun place to shop! There is music playing, tv's are going and to top it all off the selection is the best in town." – Sandy
"I was greeted with a happy salesman. That speaks volumes to me. When employees are happy to be there, it says a lot about a business. " - Jim
"I've been a designer for 17 years in the Gwinnett area and Underpriced Furniture has always been at the top of my list for quality furniture at affordable prices for my clients." -Pam
So, go check it out! The people of Gwinnett have spoken and Underpriced Furniture is the place to shop for all of your home decorating needs.