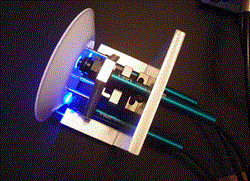 Lighting a Revolution in Workholding Technology
Fremont, MI (PRWEB) February 04, 2014
Blue Photon's workholding technology is like no other in that it uses a proprietary UV workholding adhesive to grip and hold parts in as little as 30 seconds, locking them in place without distortion and part movement.
The key to the system is the gripper. The gripper is a patented component developed at Penn State University and proven in industry.
By gripping a part instead of clamping it the user is able to hold the part on one side in many cases. The system does not use clamps or worksupports that often restrict cutting tool access to the part, allowing for greater access, this gives great freedom in machining the part and can eliminate operations.
Another key attribute to the system is the use of the transfer tool. This tool is a workholding component that incorporates a zero point system such as Erowa. Once the transfer tool is bonded to the part in the bond station the part is easily loaded and move throughout the manufacturing process. What was once a difficult part load is now easily accomplished by simply dropping the part in the zero point system chuck.