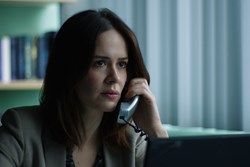 Los Angeles, CA (PRWEB) February 12, 2014
In addition to the successes of its gifted filmmakers, the NewFilmmakers LA Film Festival has some of its own recognition to celebrate: namely that the Hollywood Arts Council has just announced the non-profit organization as this year's recipient of the Cinema Arts Award for their outstanding contributions of merit to Hollywood and its arts. NewFilmmakers LA will be honored at the 28th Annual Charlie Awards Luncheon on Friday, April 25th and joined by 300 arts and business leaders in the Hollywood community. Former award recipients have included TriStar's 'Chaplin', Miramax's 'Swingers', and Warner's 'L.A. Confidential'.
On February 22nd, NewFilmmakers LA Film Fest will celebrate these successes by showcasing the films of fifteen talented Directors from as far as Israel, Finland, and Venzuela in addition to an exciting spread of local works from Los Angeles and all over the United States. Divided into three programs of invigorating shorts, the schedule will include:
"Matat" (Dir. Rotem Zisman-Cohen) - an investigation into the deep relationship crisis faced by a pious Israeli couple, and the strange dreams that color their detachment.
"Derby Kings" (Dir. Valerie Bischoff) - Jim Sundell struggles to coax his demolition derby enthusiast brother, Ace, into appearing for an impending trial and finds that a bold move far outside his comfort zone might be his best chance to salvage the brothers' relationship.
Nevada-raised writer-director Valerie Bischoff, recently graduated with honors from Columbia University's Graduate Film School where Derby Kings received the prestigious Princess Grace Graduate Film Scholarship. Her previous short film, "Veterans" (2010) also won the Adrienne Shelly Award for Best Female Director. Valerie is currently developing her first feature film, a horror/thriller set in the Nevada desert, with Sixgun Pictures.
"Twenty Eight Feet: Life on a Little Wooden Boat" (Dir. Kevin A. Fraser) - this short documentary film details the story of David Welsford, who has given up the luxuries of land in search for happiness and adventure on a 50 year old wooden boat.
"Sold" (Dir. John Irwin) - "Sold" is the story of a young journalist named Maya, who is inadvertently captured by a human trafficking ring while doing an investigative article on the treatment of illegal immigrants in America. The story focuses on Maya and another young girl, Alexa, who are trapped in the trunk of a car on its way out of town and their eventual confrontation with their captors.
This honest and moving short film won the coveted Best of the Fest Award at the 2011 Malibu Film Fest in addition to the Best Drama Award at the HollyShorts Film Festival the same year.
"Another Happy Anniversary" (Dir. Miranda Bailey) – tells the story of Tom and Jeanne, who decide to celebrate their 10th anniversary by being adventurous and having a threesome--easier said than done!
Attending filmmaker Miranda Bailey earned a degree in acting at New York's Skidmore College before moving to Los Angeles to begin professionally acting, writing, directing and producing for film, television and theatre. She is perhaps best known for her film making work as executive producer on the critically acclaimed film 'The Squid and the Whale' starring Jeff Daniels, Jesse Eisenberg, and Laura Linney.
"Kakara" (Dir. Kimmo Ylakas) – When rough-around-the-edges tough-guy Hammarberg drags his girlfriend to the hospital for an abortion, an unlikely new ally causes him to rethink his ways: a ten year-old boy.
"Upon Your Shoulders" (Dir. Ben Rapson) – In this silent narrative set to Eric Whitacre's choral masterpiece, "Sleep", a married man discovers he's going to be a father. As his repressed memories and secret fears come rushing back, he edges further from his wife and closer to a breakdown.
"Empyrean" (Dir. Sophia Savage) – When her father is suddenly diagnosed with inoperable brain cancer, Sadie returns home to help her family care for him while struggling to accept the chaos within his mind, her family and herself. "Empyrean" is the achingly poignant true story of a daughter coming to terms with the loss of her hero: her father.
New Hampshire-born attending writer/director/producer/star Sophia Savage won the World Cinema Directing Award at the 2013 Amsterdam Film Fest Van Gogh Awards.
"Samnang" (Dir. Asaph Polonsky) – The film details the story of a recent Cambodian immigrant who works nights at a donut shop in Long Beach, California, who finds comfort in his new country by building a life of routine and solitude. But when his boss, Ngoun, orders him to train a new worker--his spunky sister, Vanny--Samnang fears he will be replaced. During the course of the night will Samnang lose everything he has worked for or discover that life could be sweeter with another baker in the kitchen?
Samnang is the recipient of the prestigious Richard P. Rogers Spirit of Excellence Award from the American Film Institute. Samnang was nominated for a Student Academy Award from the Academy of Motion Picture Arts and Sciences and for Best Narrative Short Award at the 2013 New Orleans Film Festival.
"#twitterkills" (Dir. Brett Sorem) – Directed by San Francisco State University alumni Brett Sorem and starring the Emmy and Golden Globe-nominated Sarah Paulson, "#twitterkills" is a short and sweet dark comedy about how 140 characters can ruin your life.
Sorem runs New York-based production company Nocturnal Features and took home the Best Director prize at Cincinnati Film Festival for their previous film last year. Paulson is best known for her numerous acclaimed film and television roles, including recent hits: 12 Years A Slave, American Horror Story, Game Change, and Martha Marcy May Marlene.
"Save Me A Spot" (Dir. Alfredo Hueck) – The stressful search for a parking spot in Caracas puts the strength of a young couple's relationship to the test.
"The Mega Plush" (Dir. Matt Burniston) – As night falls over the city, an epic showdown is about to take place. The evil Monkey Foot clan has been laying a trap for Mega Bear, one of the four heroes who make up The Mega Plush--four vigilante plush toys with an attitude. Matt Burniston's animated film noir short brings to life a world of vengeful plush toys where the only real question is this: who has the stuffing to make it out alive?
"Kingman" (Dir. Adrian Szasz) – An intricate look into a small southwestern town, where jobs and dreams no longer exist. A man struggles to provide for his family, while a young boy drifts through his reality, searching for something more. By the day's end, each will make a decision that will change their lives forever.
"For The Birds" (Dir. Tara Atashgah) – A crowd of people in Iran gather to watch the execution of a young girl as she cries and begs for help. Horrified, people look away as the girl is about to get hanged until one particular bystander can no longer remain silent.
"Open House" (Dir. Dustin Alpern) - A murder mystery set in a dark world of deceit, treachery, and danger: a high school party. When the most popular jock in school is found dead, a shy student must find the killer before the night is out if he wants to save the girl of his dreams.
Located in Downtown Los Angeles, AT&T Center is the Presenting Venue Sponsor of NewFilmmakers Los Angeles. Producer's Circle Sponsors include SAG-AFTRA and Wells Fargo. For more information and to purchase tickets for the NewFilmmakers LA Film Festival on February 22nd, 2014, please visit http://www.newfilmmakersla.com/.